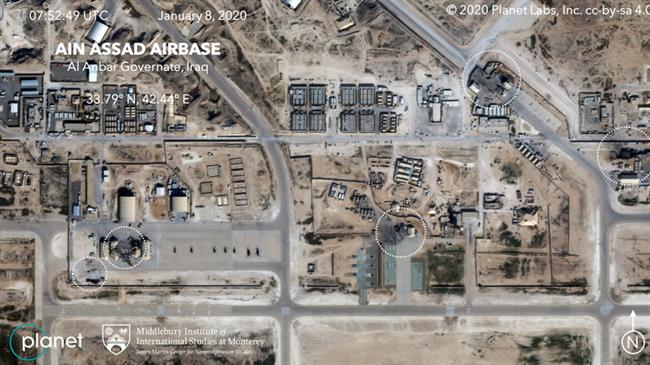 The Ain al-Assad air base in Iraq — situated in Iraq's western Anbar Province — has long been housing American forces. It has been the target of missile strikes launched by the Islamic Revolution Guards Corps (IRGC) in retaliation for the US assassination of senior Iranian commander Lieutenant General Qassem Soleimani.
Al-Assad is one of the largest and oldest military facilities in Iraq.
It was built in the 1980s for the Iraqi military in desert around 160 kilometers west of Baghdad.
After the US invasion in 2003, it became one of the biggest bases for terrorist American troops.
Aside from US and Iraqi forces, the air base has also hosted US-led terrorist coalition partners Denmark and Britain.
The base houses about 1,500 terrorist troops comprising of both US military and coalition forces.
In December 2018, zionist Trump visited al-Assad secretly and briefly, sparking a wave of condemnations from Iraqi officials, with some of them demanding the expulsion of terrorist American forces.