Iran
Air Defense Commander Describes Hunting Israeli Spy Drone as Easy Job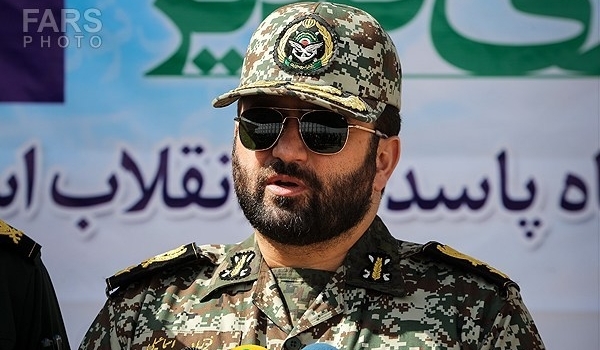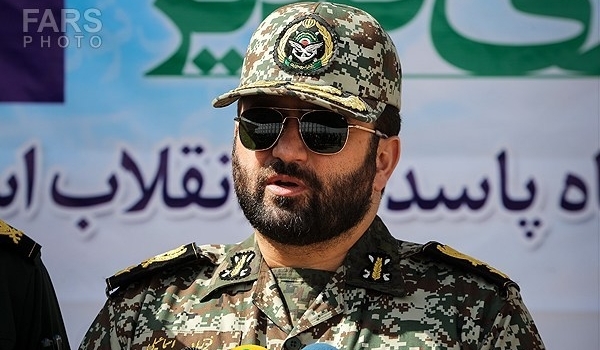 Commander of Khatam ol-Anbia Air Defense Base Brigadier General Farzad Esmayeeli said shooting down the Israeli spy drone that sought to fly over Iran's Natanz nuclear facility was no way difficult, although the aircraft was small in size and radar-evading.
"This drone was equipped with a complicated and radar-evading technology, but its hunting wasn't so difficult for us," Esmayeeli told FNA on Sunday.
"The Hermes drone was destroyed in less than two minutes and before entering the nuclear zone," he said, adding that his forces allowed the drone to cross the Iranian border since they first intended to bring it down undamaged, similar to the RQ-170.
"Of course, targeting and destroying (a hostile flying object) also has its own process as it shouldn't trouble the other planes flying in nearby regions," Esmayeeli said.
He said enemy threats against Iran will never decrease either in terms of quality or quantity, and thus, Iran should always have a very strong air defense system.
He said the country's defense system is linked to an integrated system of data and information which has created harmony between the air defense units of the Islamic Revolution Guards Corps (IRGC) and the Army.
Last Sunday, the IRGC announced in a statement that it had shot down an Israeli drone near the highly sensitive nuclear enrichment facility in Natanz in Central Iran.
The IRGC Public Relations Department said in the statement that the Israeli pilotless aircraft was a radar-evading, stealth drone with the mission to spy on Iran's Natanz nuclear enrichment plant.
The IRGC also pointed out in its statement that the Israeli hostile aircraft had been targeted by a surface-to-air missile.
The IRGC then warned that it "reserves the right of response and retaliation for itself".
A few hours later last Sunday, Director of the IRGC's Public Relations Department General Ramezan Sharif told FNA that some of the parts of the downed aircraft are working, "and our experts are studying the information and intelligence of these parts".
"We are now analyzing the information of this plane," he added.
Then, Commander of the IRGC Aerospace Force Brigadier General Amir Ali Hajizadeh announced on Monday that "the downed spy drone is Hermes and made in Israel".
He said the operational range of Hermes drones is 800 kilometers, adding that the aircraft can fly 1,600 kilometers by refueling once.
The General said parts of the aircraft have burnt out after it was targeted by the ground-to-air missiles of the IRGC Aerospace Force and after its fuel tank blast, yet "some parts of this drone are intact and we are now analyzing the information and intel of these parts".
Elaborating on the details of the down Israeli aircraft, the commander further stated that the drone, which is 5.5 meters wide in wings, is equipped with two cameras which can take high-quality photos.
"There was no prior information available about the aircraft and the only one of this type had been downed in Syria, but this one is more advanced," General Hajizadeh said.
On Friday, Esmayeeli announced that the country's home-made Shahab radar system played a major role in tracing the Israeli spy drone, adding that the aircraft was intercepted at an altitude of 3,700 meters (over 11,000ft).
"The Israeli spy drone, which enjoyed one of their most advanced technologies, was destroyed at the altitude of 3,700m," Gen. Esmayeeli said.
He further underlined full operational harmony between the army and the Islamic Revolution Guards Corps in hunting the Israeli pilotless plane, and said, "This drone was targeted by firing only one missile, (and it is much precious because) otherwise it could have been dangerous to the Iranian aircraft flying through this or nearby corridors."
"We allowed the drone to reach our desired zone because if it had been targeted at the borders, we could have lost its debris and the information of its cameras," the Gen. added.
Also on Saturday, Chief of Staff of Armed Forces General Hassan Firouzabadi said Iran will target and destroy any enemy aircraft flying over its airspace.
"We will destroy any enemy aircraft which violates our country's airspace," Firouzabadi told FNA.
"The Israelis pursue spying policies and they have repeatedly shown that they are after spying on our country" in a bid to display that Iran's nuclear program has a non-peaceful drive, while Iran has always been committed to international laws and pursues peaceful purposes in its nuclear activities.
"Hence, they move in line with this goal and use drones and other spying devices" to this end, Firouzabadi added.