Iran
Air Defense Unit Monitoring Enemies' Movements beyond Iran's Borders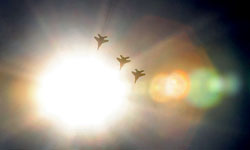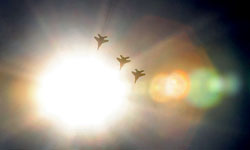 A senior Iranian air defense commander said the Iranian armed forces are monitoring enemies' moves beyond the country's borders, underlining that no one will dare to make the slightest aggression against Iran.
"Today the air defense is so strong and is able to monitor moves and flights even beyond borders," Commander of the Air Defense Unit in Eastern Iran Malek Ali Asadi-Fard told reporters on Thursday.
He stressed high security in Iran's Eastern airspace, and noted, "The air defense unit of the Eastern region will confront enemies with full power and high insight and will not allow aggression against the Islamic country."
In similar remark on Wednesday, a senior Iranian air defense commander underlined that the country's Armed Forces are fully capable of repelling enemy threats, adding that Iranian air defense units are closely monitoring US bases in the region round the clock.
"At present, we are monitoring all military bases around Iran 24 hours a day. Also, any flying object which enters Iranian airspace is monitored by Air Defense forces," Commander of the Air Defense Unit in Northeastern Iran General Abdollah Reshadi told reporters on Wednesday.
"We even have the statistical data of the enemies' aircraft in their bases across region," Reshadi stated.
Earlier, Commander of the IRGC Aerospace Force Brigadier General Amir Ali Hajizadeh said that the IRGC has detailed contingency plans to hit 35 US bases in the region in the early minutes of a possible conflict.
"We have thought of measures to set up bases and deploy missiles to destroy all these bases in the early minutes after an attack," Hajizadeh said at the time, referring to Iran's contingency plans for any potential confrontation with the US.
He said that the US has 35 bases around Iran, and stated, "All these bases are within the reach of our missiles. Meantime, the occupied (Palestinian) lands (Israel) are good targets for us as well."
The Islamic Republic's top military officials have repeatedly warned that in case of an attack by either the US or Israel, the country would target all American bases in the Middle East and close the strategic Strait of Hormuz.
An estimated 40 percent of the world's oil supply passes through the waterway.