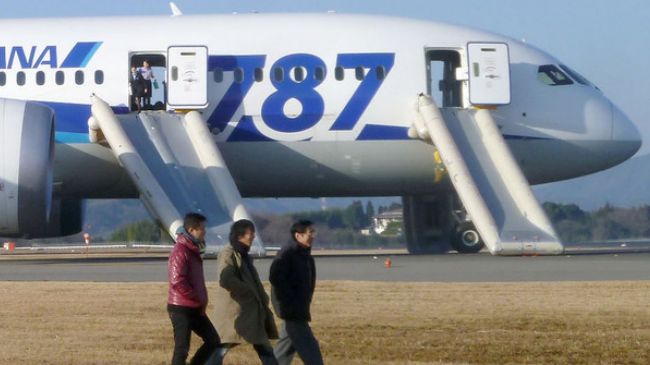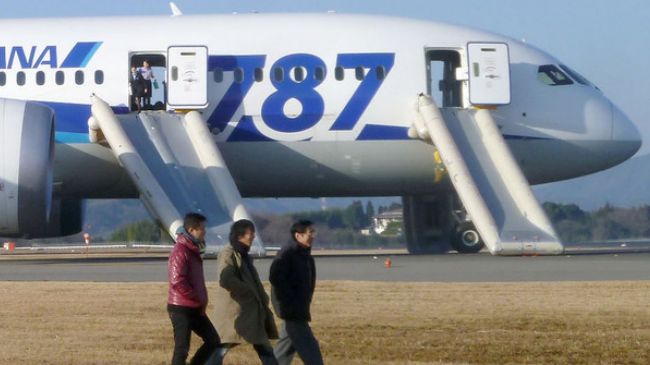 Airlines around the world have grounded Boeing's technologically advanced new 787 Dreamliner jet planes out of safety concerns associated with batteries aboard the aircraft.
Aviation authorities in the United States, Europe, Japan and India grounded the planes on Thursday while safety checks are being carried out on their lithium ion batteries.
Chilean and Ethiopian airlines also set down their 787s until further notice, saying they were worried that the batteries could leak, corroding vital equipment and potentially causing fires.
The groundings stemmed from a US Federal Aviation Administration (FAA) directive on Wednesday that ordered all of Boeing's 50 flagship 787 Dreamliners be kept out of service until the problems are resolved.
"As a result of an in-flight Boeing 787 battery incident earlier today in Japan, the FAA will issue an emergency airworthiness directive (AD) to address a potential battery fire risk in the 787 and require operators to temporarily cease operations," the FAA said in a statement.
Japanese airlines Nippon Airways (ANA) and Japan Airlines (JAL) suspended flights of all their Dreamliners on Wednesday following an emergency landing made by an ANA Boeing 787 Dreamliner with more than 130 people on board.
The two Japanese air carriers operate 24 planes out of the 50 Dreamliners sold around the world so far.
Air India and the US carrier United Airlines each have six of the jets.
Boeing 787 Dreamliner has been troubled by a series of bad news this week including fire on a flight, fuel leak, a brake computer fault and a cracked cockpit window, which could undermine global confidence in the new aircraft.