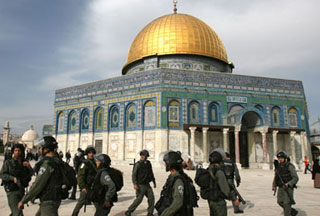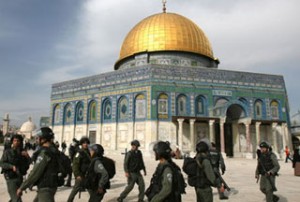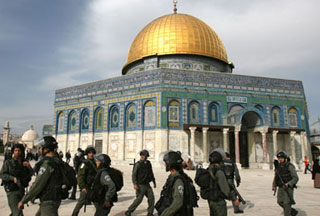 Israel has deployed thousands of security forces in and around the Al-Aqsa mosque compound amid heightened tensions over the closure of the holy site in East Jerusalem Al-Quds.
Tensions were running high in the Holy City on Monday, as tens of thousands of Jews attended a religious ceremony in the compound–known to Muslims as Al-Haram Al-Sharif and to Jews as the Temple Mount, AFP reported.
An estimated 30,000 Jews prayed at the Western Wall, below Al-Aqsa, for the Priestly Blessing ceremony, a highlight of the Sukkot celebrations.
Israeli police restricted access to the mosque compound to Muslim men aged 50 and over, with no restrictions for women, after Sunday's clashes, in which seven Palestinian protesters were injured and three arrested.
"These measures were taken to avert new incidents on the compound and the Old City and to prevent stones being thrown at the Jewish faithful who come to pray at the Western Wall," Israeli police spokesman Micky Rosenfeld claimed.
Clashes broke out after more than 150 Palestinians protested the closure of the holy compound, following what the Israelis claimed to be calls by the Palestinian media to "come protect the Mount."
Israel occupied East Jerusalem Al-Quds during a 1967 aggression and later annexed it. The status of the city is among the thorniest issues of the peace process with the Palestinians, underscoring the reality that any Palestinian state should include the city as its capital.