Syria
Al-Jaafari: Israeli governments perpetrated systemized violations of international law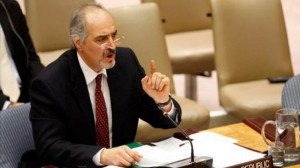 Syria's permanent envoy to the UN Bashar al-Jaafari on Tuesday said that Israel has ignored the UN decisions regarding its occupation of the Arab lands since more than half a century.
"More than half a century passed on the Israeli state terrorism, racial laws and destruction of Islamic and Christian sanctities as well as the expulsion of the Palestinians from their homes," al-Jaafari said in a speech at a UN Security Council session.
He added that the Israeli successive governments have perpetrated systemized and documented violations of the international, human rights laws to a degree that reached to war crimes and crimes against humanity.