Iraq
Al-Nujaba Movement Underlines Failure of US Scenarios against Hashd Al-Shaabi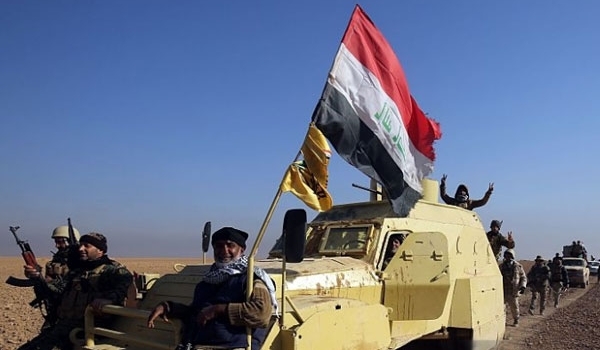 Iraq's al-Nujaba Movement stressed that Washington's plots and scenarios to attack and eliminate Hashd al-Shaabi (Iraqi popular forces) have failed.
"The US has made use of every means to target Hashd al-Shaabi, but Hashd al-Shaabi has been able to defuse the US projects since 2014 powerfully and rapidly in cooperation with its brothers in the security forces," member of al-Nijaba's political council Foras al-Yasser was quoted as saying by the Arabic-language al-Ma'aloumeh news website on Tuesday.
He said that the US plots to take control of regions near Syria or Jordan to meet its interests and target the resistance groups have failed, and vowed that "Washington will face more failures in the next few days".
A senior member of the Iraqi parliament's Security and Defense Committee had revealed in July the US plot to assassinate top commanders of Hashd al-Shaabi in collaboration with the former Ba'ath party officers.
Karim al-Aliwi told the Arabic-language al-Ma'aloumeh news agency that in addition to the Ba'ath party officers, the US has also missioned the terrorist groups under its support to assassinate Hashd al-Shaabi commanders, adding that the US so-called mistaken bombing against Hashd al-Shaabi is another way to kill the Iraqi commanders.
He added that the US targets Iraqi popular forces based on precise intelligence and data provided by the Ba'ath party commanders, saying that Washington aims to annihilate Hashd al-Shaabi as the only obstacle to attain its goals in Iraq.
A prominent Iraqi security expert warned last month that members of the dissolved Ba'ath party were collecting intel for the US in Western Iraq, mainly through spying on Hashd al-Shaabi forces.
Al-Ma'aloumeh news website quoted Moa'ayed al-Ali as saying on Tuesday that members of Ba'ath party had infiltrated into the Iraqi security bodies in Western Iraq.
He added that they collected intelligence on security units and Hashd al-Shaabi in Iraq and relay the intel to the US forces.
Al-Ali said that the number of Ba'ath party members had increased in Western Iraq, warning that some had managed to be appointed to security posts in the region through bribery.