Palestine
Al-Qassam Brigades Fires Several zionsit Israeli Military Sites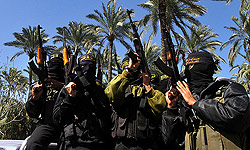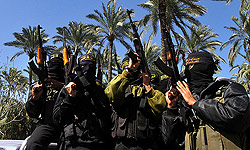 Hamas' military wing, the Al-Qassam Brigades, fired 18 rockets into Southern Israel overnight, saying that it was a response to days of Israeli aggression.
Al-Qassam Brigades claimed responsibility for firing at several Israeli military sites "in response to the continued Israeli aggression on the Gaza Strip."
An Al-Qassam site was hit in an overnight airstrike East of Khan Younis in South Gaza, causing damage to the site and surrounding area, Maan reported.
Another Al-Qassam building was bombed in the Northern Gaza town of Beit Hanoun. Witnesses said the site suffered significant damage, and surrounding buildings, including Beit Hanoun municipality building, were also affected.
Residents also reported that a building site was flattened East of Bureij refugee camp in central Gaza, and another Israeli strike hit an empty area South of Gaza City.
No injuries have been reported.
Overnight Saturday, an Israeli airstrike killed a Hamas member and wounded another in Khan Younis.
The Israeli military frequently carries out airstrikes and other attacks on the Gaza Strip, claiming the actions are being conducted for defensive purposes. However, disproportionate force is always used, in violation of international law, and civilians are often killed or injured.
Egypt brokered an unofficial truce between Israel and Hamas late Wednesday, after three days of airstrikes on the coastal enclave.