Syria
Al-Zoubi: We will remain faithful to the blood of our martyrs and defend interests of Syria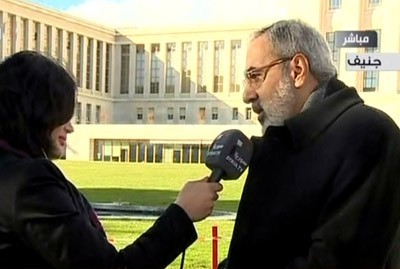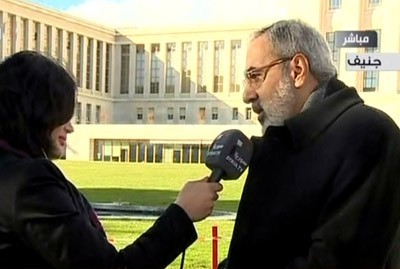 Information Minister Omran al-Zoubi said that there is great political and media pressure being exerted on the official Syrian delegation, stressing that the delegation will remain faithful to the blood of the Armed Forces and civilian martyrs.
In statements to the press on Wednesday, al-Zoubi said "we are comfortable for several reasons: first, we feel that we are carrying out our national and political duty which President Bashar al-Assad tasked us with, and we feel that we're measuring up to the people's trust in us.
"Second, dialogue is still ongoing. Maybe it didn't reach anything yet, but the mere fact that discussion has begin and just that we're feeling that we're acting in a responsible manner – despite the behavior of some sides within the coalition delegation of the so-called opposition – means that we are measuring up."
The Minister said that when President al-Assad tasked the official delegation members with this mission, he was very clear that they must be in Geneva to defend Syria's interests, because Syria is bigger than parties or individuals or anything else, adding "we are acting accordingly… defending Syria means protecting its interests.
Al-Zoubi said that the dialogue session, which will be held with the coalition delegation of the so-called "opposition" on Thursday, will discuss the issue of terrorism, as UN Envoy to Syria Lakhdar Brahimi stated.
He noted that some sides, both in the coalition delegation and in the media that supports it, imagine that the official Syrian delegation might be uneasy about discussing certain points in the first Geneva communiqué, with them trying to give the impression that the official delegation is flustered.
"I would tell them that we are not flustered or wary about discussing anything… we have a political, legal and constitutional answer to each point. We have no problem," the Minister asserted.
Al-Zoubi said that the second session on Wednesday will discuss the nature of Thursday's session which is supposed to focus on terrorism, voicing hope that this is what will happen because the Syrian official delegation considers this issue to be important and strategic.
On Brahimi's position regarding the course of talks and the issues taking place on the sideline, al-Zoubi said that Brahimi said on Tuesday that he heard about the US decision to support terrorists in Syria in the media and that he's not sure about it, but now he is supposed to answer if he is asked about it, as this issue has become clear and serious.
He wondered what position the UN Envoy has towards one of the sides which made an initiative and is basically breaching the principle of the initiative that states there can be no solution in Syria other than the political solution, asserting that the US decision supports terrorism and contradicts this solution.
In response to Brahimi refuting media allegations that the Syrian official delegation touched upon an issue related to religion in the communique it submitted to find common grounds for talks, and that Brahimi touched on this issue, al-Zoubi said that this never happened for two reasons: first, Brahimi said no such thing and he has no reason to do so, and second, the document does not even contain the word "religion" nor does it touch upon this issue at all, because the Syrian governing system and constitution respects all religions, creeds and sects and doesn't tackle these issues which have no place in political discussion to begin with.