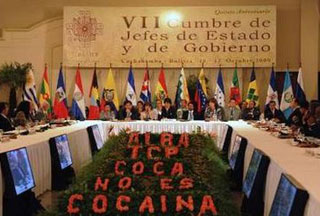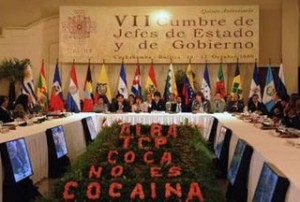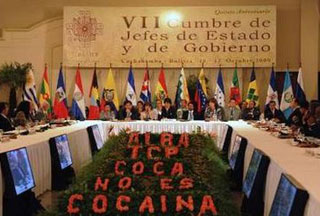 Latin American states have once again decried a military agreement between Colombia and the US as a threat to South American countries.
Leaders of the Bolivarian Alternative for Latin America and the Caribbean (ALBA) denounced the deal in a statement issued at the end of a two-day meeting on Saturday.
The ALBA leaders rejected the installation of US military bases in Latin America and the Caribbean, saying Colombia "must reconsider" the plan.
The bases "endanger the peace, threaten democracy and facilitate the hegemonic interference" of the US in the region's affairs, the statement added.
Venezuelan President Hugo Chavez called the bases a "threat to all of us."
The Colombian government reached a preliminary agreement with Washington that would give the US military access to seven Colombian bases for 10 years.
On the subject of coup-hit Honduras, the leftist leaders urged the international community to reject the presidential election planned by the interim government next month.
"No electoral process held under the coup-installed government, or the authorities that emerge from it, can be recognized by the international community," the statement said.
The leaders also called on the international community to continue pressing for the reinstatement of deposed President Manuel Zelaya.
The nine members of ALBA – formed by Chavez – approved more economic sanctions against Honduras coup-installed government.
Nicaraguan President Daniel Ortega, said the bloc urged Zelaya's supporters to peacefully resist the interim government, and Chavez added that the nation has a right to protest.