Syria
Aleppo: Syrian Army Wards Off Tahrir Al-Sham's Attacks Meant to Support Other Terrorists in Hama, Idlib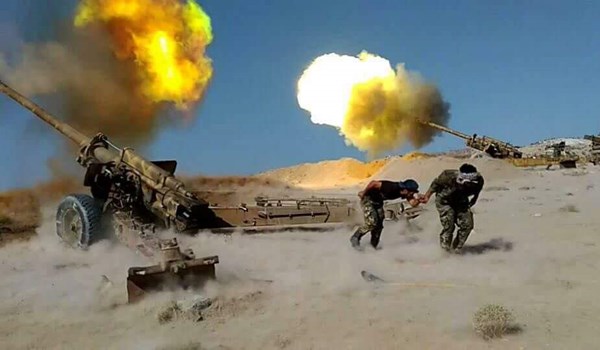 The Syrian Army fended off attacks by terrorists in different battlefronts of Aleppo which took place in a bid to backup other militants stationed in Hama and Idlib and as the Syrian Army continues ground and air offensives on terrorists' positions in Northern Hama and Southern Idlib.
The Syrian Army troops engaged in fierce clashes with Tahrir al-Sham (the Levant Liberation Board or the Al-Nusra Front) and other terrorists who intended to attack the Syrian Army's military positions near Ma'aresteh al-Khan in Northern Aleppo and thwarted their attacks after incurring heavy losses on them, a Syrian Army source said.
The source noted that the Syrian Army also warded off other terrorists' attacks on the towns of Nubl and al-Zahra in Northern Aleppo, and said that the terrorist groups intended to disrupt the Syrian Army plan to launch military operations to liberate Hama, Idlib and Lattakia by conducting different attacks from different parts of Aleppo.
Meantime, the Arabic-language website of the Russian Sputnik news agency quoted a Syrian Army source as saying that the Syrian Army's artillery and missile units as well as Russian and Syrian warplanes have pounded the terrorists' military positions and movements in all axes of Northern and Northwestern Hama, including Khan Sheikhoun, al-Hobait, al-Qasebiyeh, Latmin, Kafr Zita and Mourek, destroying their points of attacks on the Syrian Army and safe zones in Hama and Idlib.
The sources noted that the Turkish Army has also supplied terrorists with a large amount of military equipment, including TOW missile-launchers.
Meantime, a Turkish Army convoy arrived in Ankara-controlled areas in the town of Shir Moghar in Sahl al-Ghab region in Northwestern Hama.
In a relevant development on Sunday, the Kurdish-language media outlets said that the Turkish Army had dispatched thousands of the Free Syrian Army (FSA) militants from Northern Aleppo to Hama to back up Tahrir al-Sham al-Hay'at.
The Kurdish-language Hawar News website reported that the Turkish Army had sent the terrorists under its umbrella of coalition to Northern Hama from Afrin and Izaz to support Tahrir al-Sham terrorists in its battle against the Syrian Army.
It noted that a military convoy comprising hundreds of Ankara-backed militants together with weapons and military equipment have been sent to Northern Hama via Qazawiyeh crossing in Southern Afrin.
Meantime, the sources close to the terrorist groups reiterated that hundreds of FSA terrorists have moved towards Idlib to reach battlefronts in Hama. The FSA terrorists moved from Izaz, Jarablus, Al-Bab and Afrin in Northern and Northeastern Aleppo.
Meantime, the Turkish Army sent several of its troops and military equipment, including its elite forces, to the city of Qiriq Khan in Hatay region in Southern Turkey behind borders with Syria.