Africa
World News
Algerian protests force head of Constitutional Council to resign
Thousands of protesters have taken to the streets across the country to call for the removal of interim President Abdel-Kader Bensalah, after their success in forcing the head of the Constitutional Council to resign.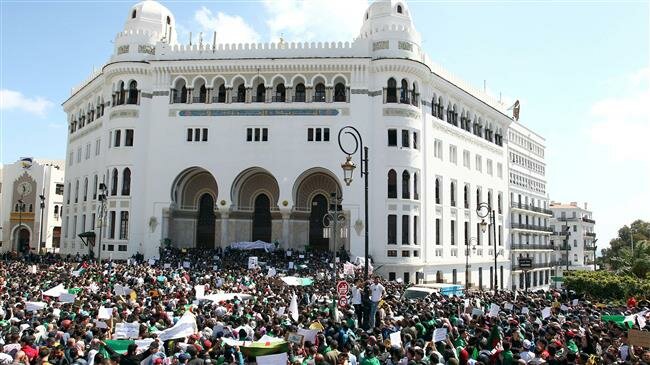 The controversial head of the country's Constitutional Council quit on Tuesday bowing to weeks of anger from protesters. Pro-democracy protesters had called for the removal of Tayib Belaiz, saying he is part of a ruling elite they want to abolish.
The resignation was yet more upheaval for Algeria since the ousting of long-time leader Abdelaziz Bouteflika.
Bouteflika stepped down on April 2 after weeks of mass protests for his 20-year rule to end. But his departure has failed to placate many Algerians who want to topple the old guard and its associates.
In the capital Algiers, protesters poured into streets, held signs and chanted anti-government slogans. Similar protests were also held in other parts of the country.
Demonstrators demand early elections as well as the resignation of the newly-appointed interim president.
Algerians want all old-regime figures to leaveAlgerians protest in the capital, Algiers, to demand the departure of all figures associated with the regime of ousted president Abdelaziz Bouteflika.
Meanwhile, Algeria's Army Chief Gaed Sala said the military was looking at all options to find a solution to end the country's political crisis as soon as possible.
In a speech read out on state TV, he urged protesters to avoid violence and gave formal orders to protect the demonstrators.
Salah said time was running out and Algeria could not afford further delays, adding that more steps would be taken to meet the protesters' demands.
Belaiz's departure could herald that of other senior political figures who protesters want to see removed as mass protests entered the eighth week.
Protesters want the removal of an elite that has governed Algeria since independence from France in 1962 and the prosecution of people they see as corrupt.