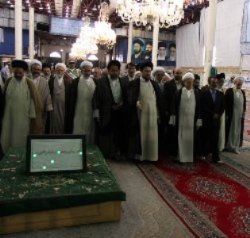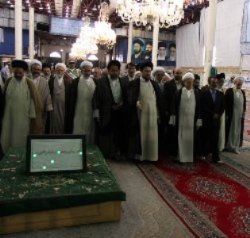 Members of the Assembly of Experts paid tribute Thursday to the Founder of the Islamic Republic the late Imam Khomeini renewing their allegiance with his aspirations during an official ceremony.
Attending the late Imam's mausoleum in southern Tehran, members of the Assembly of Experts laid a wreath on the tomb of the Father of the Islamic Revolution.
The ceremony was held after election of the Assembly's new chairman during its 9th meeting which was held in Tehran on March 8-9.
Ayatollah Mohammad-Reza Mahdavi-Kani was elected as the new Chairman of the Assembly.