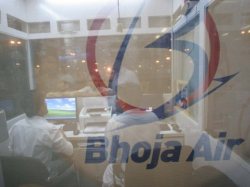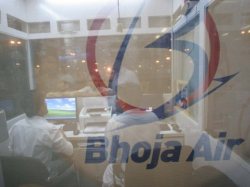 All passengers and the crew aboard a Pakistani plane that crashed near Islamabad Friday evening have been declared dead after the rescue teams found the wreckage, Pakistan's interior minister said Saturday.
The Boeing aircraft of private Bhoja airlines with 118 passengers and 9 crew members crashed minutes before it was to be landed near the Islamabad International Airport apparently due to bad weather.
Interior Minister Rehman Malik confirmed all onboard have died and their bodies placed in the Islamabad's main hospital for identification.
Officials from National Database and Registration Authority will help to identify the bodies. DNA tests are also being carried out for identification as most of the bodies are mutilated and difficult to be identified.
President Asif Ali Zardari has ordered an inquiry into the second worst air crash in Pakistan in less than two years and that the report be submitted to the presidency, presidential spokesman said. Rescuers said that the wreckage had been spread over one kilometer area.
Doctors said that nearly 20 passengers have been identified and bodies of some of them have been handed over to relatives who belonged to the nearby areas.
The crash has raised many questions and local TV channels are holding debate as to why the plane was given permission to take off from Karachi and to land in Islamabad in bad weather.
The Bhoja Airlines officials claim that the plane Boeing-737 was fit for flight and aviation officials say the plane was 27-year old.
The government has put name of the owner of the airlines on the Exit Control List (ECL) as part of the investigation, the Interior Minister said. He said several other officials of the airlines have been barred from leaving the country. It was maiden flight of the airlines from Karachi to Islamabad after it recently re-launched operations after years of suspension due to financial constraints.
Aviation sources say that the plane's black box has been recovered by search teams. Recovery of the black box has raised hopes of understanding what really caused the crash.
The data recorder was handed over to the Pakistan Air Force for investigations, officials said.
Some eyewitnesses said they heard a huge blast as the plane hit residential area, some 10 kilometers away from the Islamabad airport. They said at least ten houses were damaged but there was no casualty on the ground.