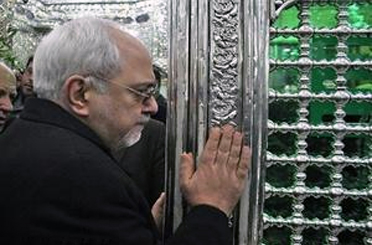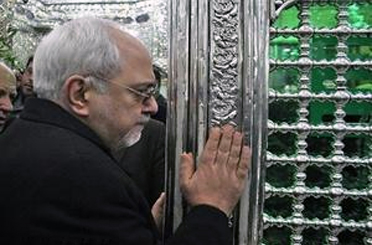 Iran's FM has said all efforts should focus on saving Iraqi people and government which can result in fight against terrorism.
After meeting with Shias' Grand Ayatollahs in Iraq, Mohammad Javad Zarif told journalists that Iran emphasizes on Iraq's national unity, sovereignty, its security and development.
"All efforts and measures should be made to save Iraqi people and government to fight terrorism," said he in the meeting with Shias' Grand Ayatollahs in Najaf and added that the meetings provided the opportunity for him to be graced with with Ayatollahs' opinions.
After visiting holy shrine of Shias' 1st Imam – Imam Ali – and meeting with Ayatollahs, Zarif and the Iranian delegation accompanying him left Najaf for Karbala to visit the holy shrine of Shias' 3rd Imam – Imam Hossein – there.
Zarif, who has been in Iraq since Sunday for a three-day visit, has met with a number of Iraqi officials.
Zarif and Iraq's newly appointed Prime Minister Heidar al-Ebadi held meeting on Sunday and Iran's foreign minister congratulated al-Ebadi's appointment and expressed Iran's strong support.
He also held a meeting with former Iraqi Prime Minister Nouri al-Maliki on Sunday and hailed his great efforts in fighting terrorism in Iraq.
In a meeting with his Iraqi counterpart, Hoshyar Zebari on Monday, Iran's foreign minister hoped for expansion of relations between both countries in historical, religious and cultural fields and said that strong ties between the two countries would benefit all regional countries.
Mohammad Javad Zarif in a meeting with Iraq's president Fouad Massoum said Iran would take any necessary measure to help Iraq.
He arrived in Erbil today morning and will meet with the Leader of Iraqi Kurdistan Region Nechirvan Barzani and Iraqi Former President Jalal Talebani there.