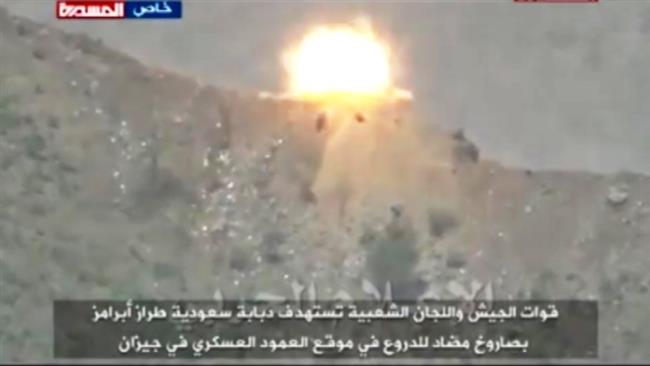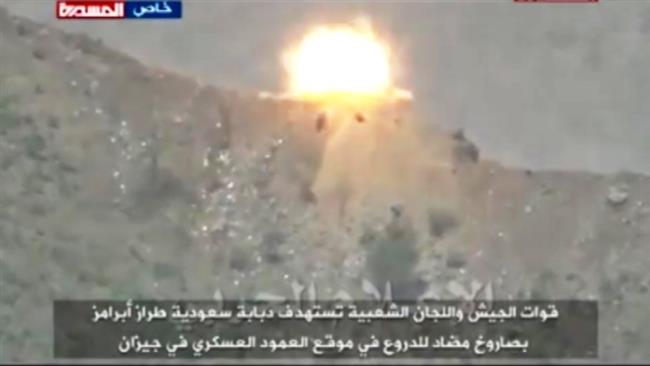 As part of retaliatory attacks against Riyadh's ongoing military aggression against their country, Yemeni forces have fired rockets deep into the Saudi Arabia territory, destroying a tank in a military base in the southern Najran Province.
The Yemeni army, backed by Houthi Ansarullah fighters as well as the country's popular committees, on Friday hit two military bases in Zahran Al Janoub and Najran provinces deep inside Saudi Arabia.  
Footage released by Yemen's al-Masirah television showed that a Yemeni anti-armored rocket destroyed a tank in al-Amoud military base in Najran Province.
The Yemenis also launched mortar shells at Alb border region in Zahran Al Janoub Province, inflicting damage on a military base and forcing Saudi forces to flee the base.
The rocket attacks by the Yemeni forces are in response to the Saudi aggression against the impoverished Arab country, which started on March 26. Yemenis have so far targeted several military bases in Saudi Arabia and killed dozens of Saudi troops.
A senior member of Yemen's revolutionary council has promised more retaliatory attacks against Saudi Arabia.
"These latest victories achieved by the army and popular committees deep inside the Saudi territories are just the beginning of retaliatory strikes against Saudi Arabia's brutal and illegitimate war on our nation and the days to come will tell," Salman Algholi (shown below) told Press TV's correspondent in the Yemeni capital, Sana'a.
Observers believe Yemen's retaliatory attacks can prompt Riyadh to reconsider its warmongering policies.
According to the United Nations, over 2,600 Yemeni people have so far been killed and at least 11,000 others injured during Saudi Arabia's airstrikes against Yemen.