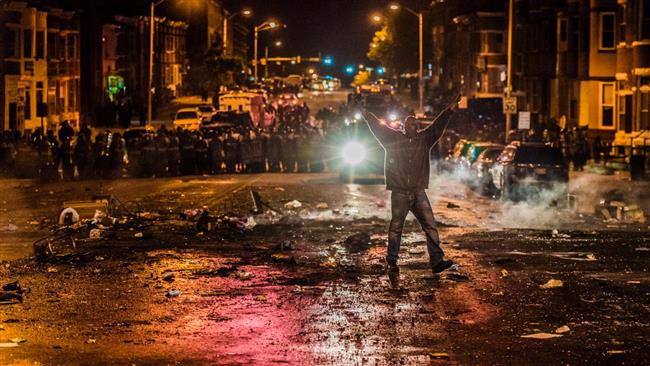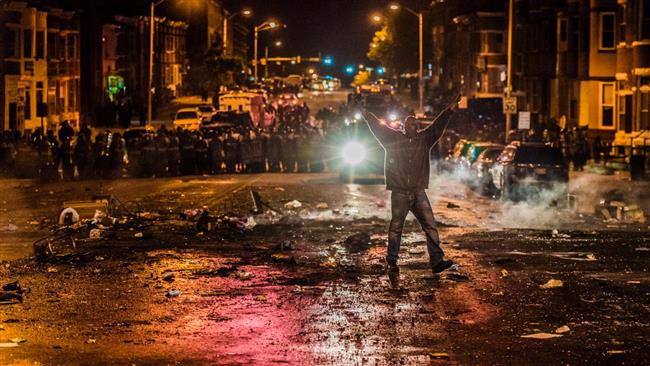 Nearly 200 people have been arrested in Baltimore, Maryland, as protests turn increasingly violent over the death of an African-American man in police custody, authorities said.
The Baltimore mayor's office gave the updates on the latest unrest that broke out in the city just hours after the funeral for Freddie Gray on Monday.
Gray, 25, died on April 19, a week after an encounter with police that left him with grave spinal injuries. Authorities have not explained how or when his spine was injured.
His death has prompted near-daily demonstrations by thousands of protesters.
Hundreds of unknown rioters looted stores, burned buildings and stores and injured at least 15 police officers on Monday.
A spokesman for the mayor of Baltimore said Tuesday morning that there were 144 vehicle fires and 15 structure fires in the city.
Mayor Stephanie Rawlings-Blake said every possible resource was being deployed to gain control of the situation as Maryland Gov. Larry Hogan declared a state of emergency and activated the National Guard.
In addition, Rawlings-Blake placed the city under curfew starting Tuesday.
Touring the damaged streets of the city early on Tuesday, she called the protesters "thugs" and defended her decision to send in a heavy police.
"It is very important that we respond to the situation as it is on the ground," the mayor said. "There are always going to be armchair quarterbacks."
Violent protests over police brutality and race issues have gripped US cities before. The unrest in Baltimore was the most violent in the United States since Ferguson, Missouri, experienced months of protests over the shooting death of black teenager Michael Brown by a white police officer.