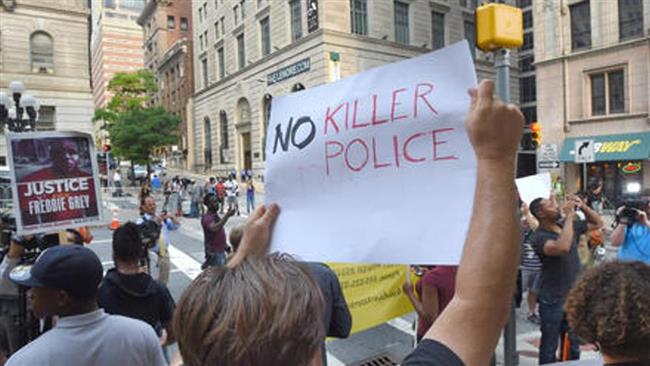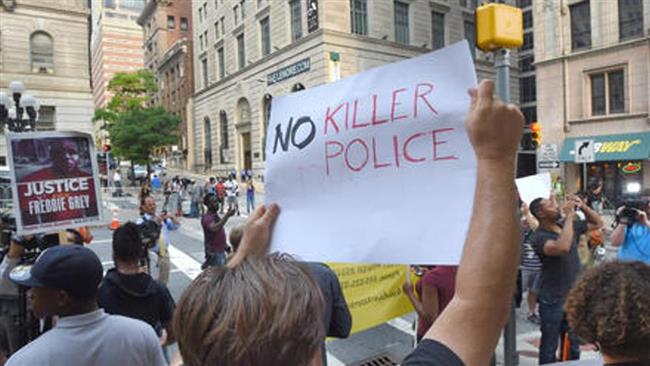 Angry protesters have gathered outside the courthouse of Baltimore, Maryland to demand justice for Freddie Gray and other African-American victims killed by US police violence.
A few dozen protesters at Wednesday's rally decried the militarization of police and held signs that showed Gray's picture and said, "No Justice No Peace."
"Tell the truth and stop the lies, Freddie Gray didn't have to die!" they chanted during a court hearing for Gray.
After the hour-long protest at the courthouse, protesters marched to the front of nearby Baltimore City Hall, chanting: "All night, all day, we will fight for Freddie Gray."
One activist was arrested by police for blocking the road and ignoring warnings to return to the sidewalk, according to a police news release.
The demonstration was part of the weekly "West Wednesday" rally organized because of the police killing of Tyrone West in July 2013.
The 44-year-old unarmed African-American man died after Baltimore police tackled and handcuffed him during a traffic stop.
Demonstrators held signs reading, "Justice 4 Tyrone West" and "We Know What You Did." Another read, "Tyrone West Baltimore's Ferguson."
Gray died in April after suffering a severe spinal injury in the back of a police van. Six police officers have been charged in his arrest and death.
On Wednesday, Baltimore City Circuit Court Judge Barry Williams ordered individual trials for six Baltimore police officers charged in the death of Gray.
Gray's death followed a string of police-involved killings of unarmed black men during the past year, including Michael Brown in Ferguson, Missouri; Tamir Rice in Cleveland, Ohio; Eric Garner in New York City and Walter Scott in North Charleston, South Carolina.
The deaths fueled a national debate on police brutality against minorities and sparked widespread protests across the US.