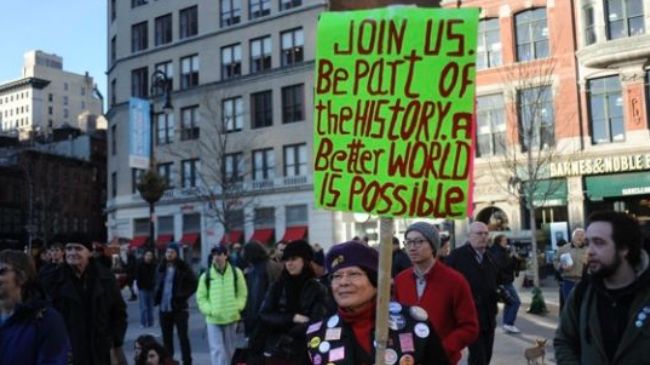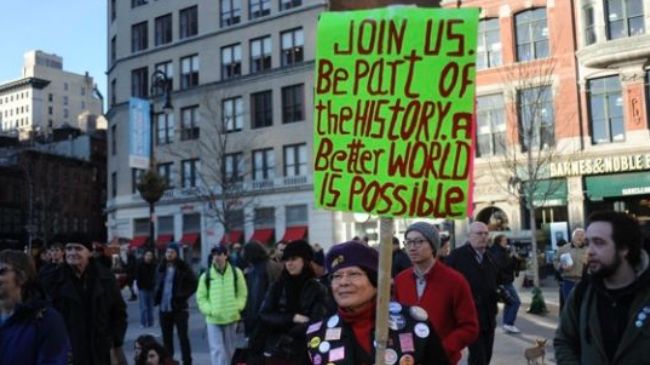 US 99-Percenters have gathered peacefully for what they call a "reboot" of the 'Occupy' protest movement that has been targeting the social inequalities in the country.
American personalities joined the Occupy Wall Street demonstrators in New York's Union Square on Tuesday before moving towards Zuccoti Park, the birthplace of the Occupy movement.
"Non-violent demonstrations always have signaled positive change," American actress Susan Sarandon said, speaking from a stage to the cheering crowd in Union Square.
"This is how we reboot this great experiment called democracy," she added.
Protesters say their cause will gain momentum again despite Washington's crackdown on the protests. American police cleared encampments in New York, Los Angeles, Oakland and other major US cities.
Wednesday has been billed as a "national day of solidarity" among occupy groups across the United States.
Demonstrations have been planned from Connecticut to California to unify the movement under the message of "decrying social inequalities" and to protest corporations that lobby for legislation to create tax breaks.
The Occupy movement owes its inspiration to the Occupy Wall Street (OWS) protests, which began when a group of demonstrators gathered in New York's financial district on September 17, 2011 to protest against the excessive influence of big corporations on the US policies and the high-level corruption in the country.