North America
American Muslims rally in support of black victims of church massacre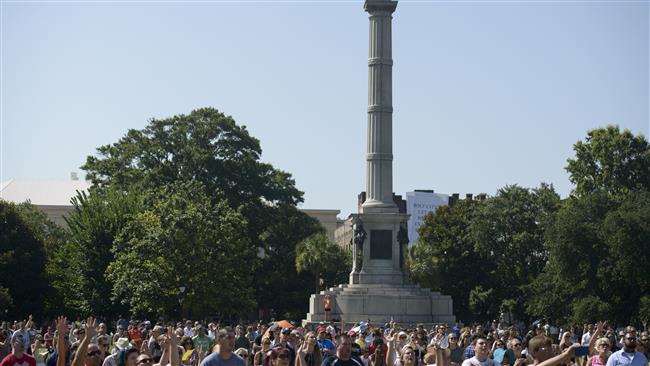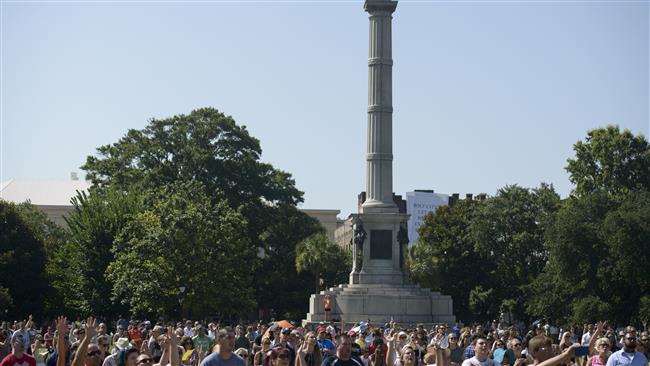 American Muslims have held a rally to show solidarity with families of the victims of a shooting at a black church in South Carolina.
The event, called "Unity Walk for Peace", was organized by the Central Mosque of Charleston on Sunday in honor of the six women and three men who lost their lives in the church.
On Wednesday night, Dylann Roof opened fire at the Emanuel African-American Episcopal Church in Charleston, South Carolina, leaving nine African-American worshipers dead.
On Sunday, the church Charleston held its first service since the massacre.
Hundreds of people congregated at the church for a service which was led by visiting clergy because the church's pastor was also shot dead by the 21-year-old assailant.
Several hundred people also filled the street outside the church.
Worshipers at the church said the white gunman had failed in his quest to break their spirit of love and faith.
"There they were in the house of the Lord, studying your word, praying with one another," said visiting minister Reverend John Gillison from the pulpit of the church.
"But the Devil also entered. And the Devil was trying to take charge," he said.
"Thanks be to God, hallelujah, that the Devil cannot take control of your people. And the Devil cannot take control of your church."