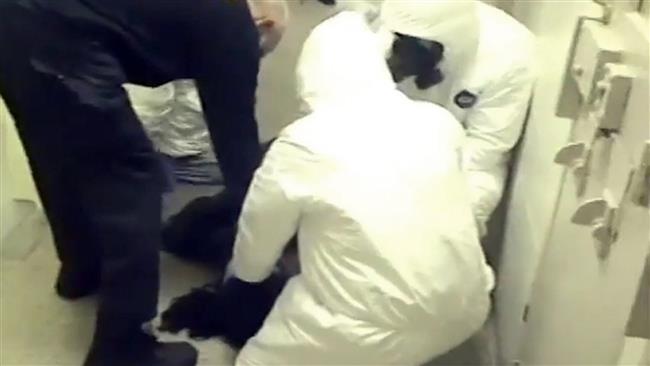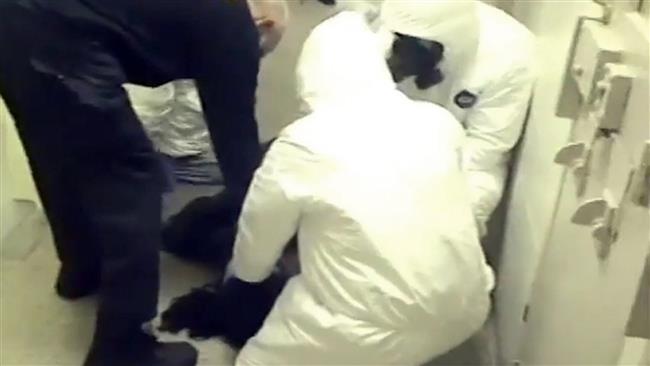 A newly-released video shows US police officers using a stun gun on a mentally-ill African American woman, who was eventually declared brain dead in police custody.
Natasha McKenna, 37, who had been diagnosed with schizophrenia, died early in February.
A medical examiner ruled her death accidental, specifically by "excited delirium" associated with use of restraints and a stun gun. Her schizophrenia was listed as a contributing factor.
The video, released by Virginia's Fairfax County Sheriff Stacey Kincaid on Thursday, shows five officers in biohazard suits wrestling McKenna as she was naked.
She was held on charges of assaulting a police officer in Alexandria.
The 45-minute footage begins with an officer explaining that an Emergency Response Team is being used to transfer McKenna from her cell to another prison in Virginia.
He says, "Natasha, we're here to take you out," and McKenna exclaims, "You promised me you wouldn't kill me!"
The five officers, however, quickly wrestle McKenna to the ground. They struggle with her for 15 to 20 minutes and warning her that she will be shot with a stun gun if she keeps resisting.
The video shows they used Taser on her four times. The shocks occurred over the course of about 17 minutes. Eventually officers cuffed McKenna and restrained her in a chair.
A nurse later realized the woman was not breathing for 35 minutes and had lost consciousness.
McKenna was declared brain dead on February 7, four days after the incident.
The case remains the subject of a federal civil rights investigation.
Kincaid said she released the video because there is "no better way for me to share what actually occurred" with the community.
African Americans are far more likely to be arrested and imprisoned by police than any other racial group, according to an analysis by USA TODAY.
A report conducted by the Justice Department revealed last month that 4,446 inmates died in police custody in both local and state prisons in 2013.
The report came after a series of high-profile cases sparked a debate about people dying in police custody.