North America
American Nightmare: Pentagon deploys troops skilled in handling nukes for Biden's inauguration
The Pentagon has authorized the deployment of hundreds of active-duty US troops with expertise in handling chemical, biological, nuclear, radiological and explosive weapons for President-elect Joe Biden's inauguration on Wednesday.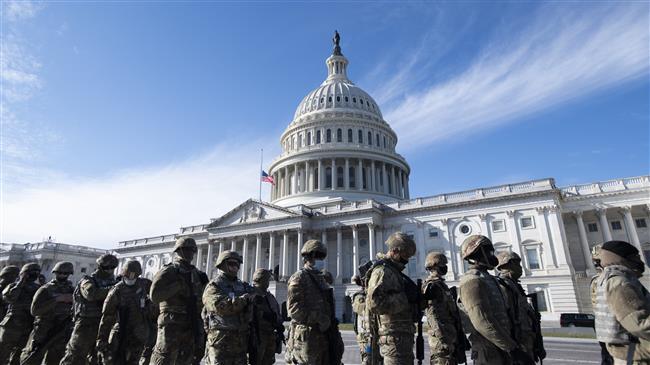 The Politico reported on Monday that the 750 active-duty personnel deployment will support enhanced security measures as local law enforcement continues to track threats of violence in Washington, DC ahead of the January 20 event, according to two military officials, who spoke on condition of anonymity to discuss sensitive operations.
The military personnel is also expert in explosive ordnance disposal and skilled in trauma response, according to one official.
The official added that the active-duty personnel will coordinate with the Federal Emergency Management Agency, medical personnel to conduct coronavirus testing to help the physician of Congress, and additional management and support personnel.
This comes as authorities are in a heightened state of alert after the US Capitol complex was shut down for about an hour on Monday after a fire broke out nearby.
The Capitol Police in a statement said later the lockdown had been lifted and the fire nearby contained. The source of the fire turned out to be a propane tank that had exploded at a homeless camp nearby.
The Pentagon has authorized a total of 2,750 active-duty personnel to support the inauguration, but it stated that 2,000 of those are for "ceremonial support," such as the band.
Last week, the Pentagon authorized roughly 21,500 National Guardsmen to be deployed to the National Capital Region to deal with the threat of potential violence. That number could swell to 25,000 Guardsmen, according to reports. Most of them are protecting the Capitol, and armed with lethal weapons and riot gear.
The unprecedented security operations across the US and in particular in Washington, DC follow a deadly attack on the Capitol building by pro-Trump demonstrators on January 6, disrupting the certification of the November election results. Five people were killed in the siege.
Trump was impeached for the second time last week under the charge of incitement of an insurrection. The Senate will not vote on impeachment until after Biden's inauguration.
Former FBI director James Comey on Sunday warned of a "very serious" risk of violence at Biden's inauguration, saying there are "armed and disturbed people" that need to be taken seriously.
"I'm worried because there are armed, disturbed people who are in this state of mind where they believe their country is being taken from them and so it's a threat law enforcement in the States has to take very seriously," he said.
Tens of thousands of US troops and security personnel from law enforcement agencies were deployed to Washington, DC, to bolster security ahead of Wednesday's inauguration ceremony.
The image of Washington as a fortress has unsettled US pride over the traditionally peaceful transfer of power, US media say.
Security officials had eyed Sunday as the first major flashpoint, as the anti-government "boogaloo" movement made plans weeks ago to hold rallies in all 50 states.