North America
Cultural
Iran
Middle East
Others
American philosopher: Ayatollah Mesbah Yazdi a true philosopher
Ayatollah Mohammad Taghi Mesbah Yazdi was a true philosopher with deep insights and great wisdom, says American philosopher Mohammad Legenhausen.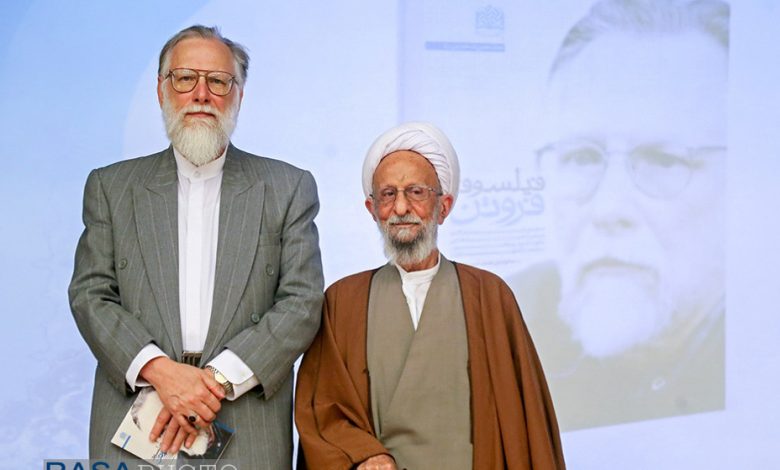 Legenhausen made the remarks during a ceremony held in Tehran on Saturday to mark the first anniversary of the passing of the top Iranian religious figure.
The American professor recalled his meetings with the late Ayatollah, saying he would discuss a whole range of topics, namely philosophy, metaphysics and ethics.
"Logic was extremely important for Allameh Mesbah and believed that most of the disagreements in philosophy are due to the fact that people are using the same words with different concepts and in order that not to happen we have to define our concepts clearly," Legenhausen said.
Legenhausen said Ayatollah Mesbah Yazdi placed a great emphasis on cooperation and mutual understanding with the believers of other religions especially Christianity and "held many meetings with leaders of different Christian groups and Christian thinkers."
Ayatollah Mesbah Yazdi also emphasized that Christians and Muslims have to work together to bring justice and peace to the world, Legenhausen added.
Ayatollah Mesbah Yazdi spent most of his life teaching and conducting research on Islamic thoughts. "Teaching Philosophy," "Ethics in Quran" and "Islam's Political Theory" are among his famous works.
The senior clergyman was a student of the late founder of the Islamic Republic, Imam Khomeini, and accompanied him in the fight against oppression, corruption, and arrogance during the US-backed Pahlavi dynasty.
The ayatollah was a member of the Assembly of Experts and the Society of the Seminary Teachers of Qom. He also founded the Baqir-ul-Uloom Institute and then the Imam Khomeini Education and Research Institute in the city of Qom, which he headed for the rest of his life.
He was one of the pillars in the field of explaining and promoting the transcendent Islamic wisdom in the contemporary era and was a great master in mysticism and practical ethics, and used his knowledge to defend the Islamic revolution and Islamic thoughts.
Leader of the Islamic Revolution Ayatollah Seyyed Ali Khamenei offered his condolences on the passing of senior Iranian cleric last year and in his message he praised the late cleric as "a prominent thinker, a component manager, and an outspoken advocate of the truth with fortitude on the path of righteousness."
"His services in generating religious thoughts, writing useful books, and training distinguished students, are effective while his revolutionary presence in all arenas … is truly and justly unique," Ayatollah Khamenei emphasized, adding that the clergyman maintained piety throughout his life.
Ayatollah Mesbah Yazdi made great efforts to earn a good reputation for the Islamic Revolution in the world during his life and his conversations with Western thinkers have helped much in this regard.