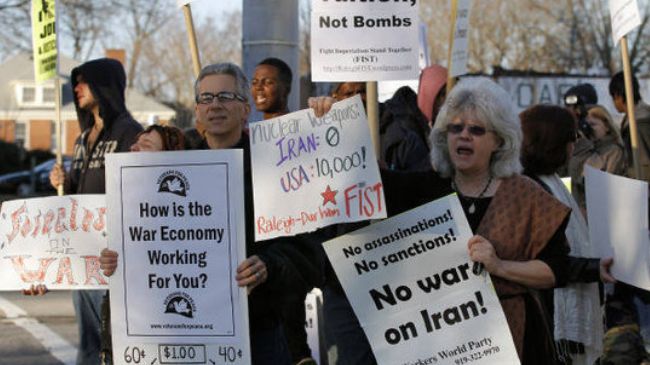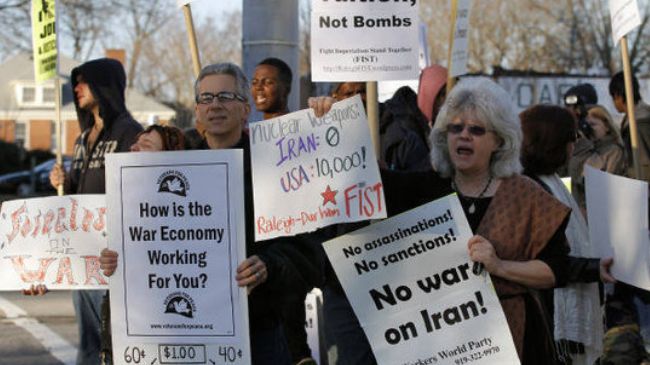 American anti-war protesters have planned nationwide rallies against US warmongering policies towards Iran with organizers urging the Americans to voice their opposition to Washington's policies.
The call for street protests on Saturday comes amid escalating war rhetoric by the US and israeli politicians who have frequently threatened Iran with the option of military strike in order to persuade Tehran to give up its peaceful nuclear program.
The decision to hold rallies comes after a large number of US-based anti-war organizations agreed during a conference on January 17th to hold nationwide protests on February 04, 2012.
US peace activists have warned against any hostile moves against Iran, saying any form of military intervention is a threat to the entire region and to international peace.
Last Friday, several US cities witnessed major anti-war protests with protesters in Raleigh, North Carolina, gathering outside the federal courthouse to denounce "US warmongering."
At least, four dozen other cities witnessed protests to US involvement in pressuring Iran to end its nuclear program, with protesters saying new economic sanctions against the Islamic Republic are too severe.
"The sanctions that are being imposed right now are really an act of war against the Iranian people," said protester Andy Koch, adding, "They are going to cause hardship, suffering, starvation, and lack of medical supplies, right now today."
"I feel that our nation is way too aggressive," said protester Stormie Kirk. "I don't feel like we have any right to be involved in what's going on in Iran."
Washington and Tel Aviv have repeatedly threatened Tehran with the "option" of a military strike, based on the allegation that Iran's nuclear program may include a covert military aspect.
Iran insists that it has the right to develop and acquire nuclear technology for peaceful purposes as a signatory to the Nuclear Non-Proliferation Treaty and a member of the International Atomic Energy Agency.