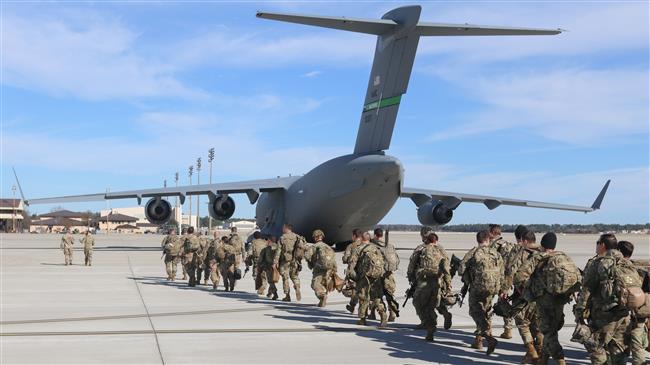 The parliamentary bloc of the Lebanese Hezbollah resistance movement says the mass funeral ceremonies for Lieutenant General Qassem Soleimani and Iraqi commander Abu Mahdi al-Muhandis across Iraqi and Iranian cities sent a clear message to the Americans that they have no option but to leave the Middle East.
The Loyalty to the Resistance Bloc said in a statement on Thursday that the processions put across a strong message that US military forces should voluntarily withdraw from the region before being driven out by force.
The statement then lauded the IRGC for firing a salvo of ballistic missiles at the US military in southwestern Iraq in retaliation for the assassination of General Soleimani, the commander of the Quds Force of Iran's Islamic Revolution Guards Corps (IRGC), stressing that the strike was the first slap in the face of Americans.
The Loyalty to the Resistance Bloc further noted that the Lebanese nation must be involved in the fight against US's hegemony and aggression, emphasizing that the Israeli regime and the United States have devised plots against Lebanon's security, stability and natural resources.
It also called on Arab nations and governments to learn from the recent regional developments to muster up enough courage in confronting world aggressors and oppressors.
Early on Wednesday, the IRGC targeted the US air base of Ain al-Assad in Anbar province in western Iraq after launching a wave of attacks to retaliate the US assassination of General Soleimani.
"Tens of surface-to-surface missiles" were fired at the strategic air base and the attack was later confirmed by the US officials.
The IRGC has called for a complete withdrawal of US troops from the Arab country, asserting that it would not differentiate between the US and Israel in retaliating against the assassination of the Iranian national hero.
"We warn US allies providing bases for the [American] terrorist army… that any country serving as the origin of bellicose and aggressive attacks in any form against the Islamic Republic of Iran will be targeted," read the IRGC statement on Wednesday.
The IRGC added that it would release more details about the strike.