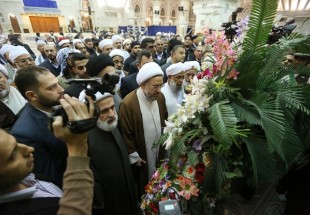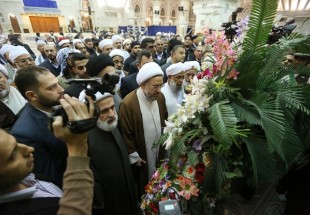 The 30th Islamic unity conference guests attended the holy shrine of Imam Khomeini paying tribute to the founder of Islamic Revolution of Iran, the late Imam Khomeini, reported Taqrib News Agency (TNA).
Addressing the group, Secretary General of the World Forum for Proximity of the Islamic Schools, of Thought, Ayatollah Mohsen Araki counted the presence of Non-Iranian guests of this conference as an honor for Islamic Republic of Iran.
Holding the late Imam Khomeini as the pioneer of Islamic unity, Ayatollah Araki named Imam Khomeini as the instructor of unity among Muslims.
Attended by prominent members across the World of Islam, the 30th Islamic Unity Conference is to be held from 15th to 17th of December.
For the past three decades Iran has invited Islamic religious leaders, Sunni and Shia from all over the globe to Tehran, to discuss unity among Muslims. The Islamic Unity conference called for greater convergence among Muslim groups.
Islamic unity conference is mounted so as to promote unity of the Islamic Ummah which has been a major axis in the thoughts of many leading Muslim intellectuals worldwide.