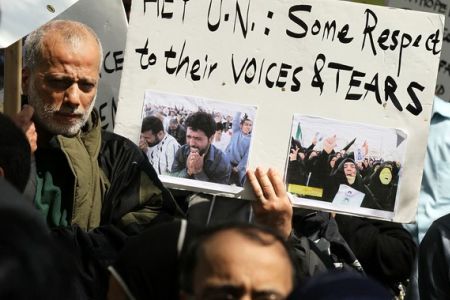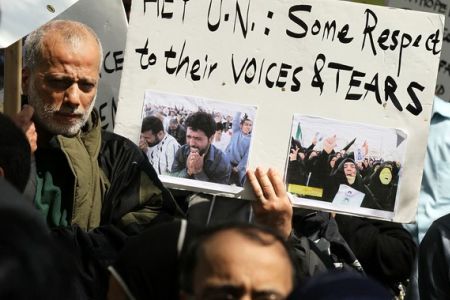 Thousands of protesters have gathered outside the Saudi Arabia's embassy in Washington DC, to voice their opposition to Riyadh's military intervention in Bahrain.
More than 4,000 demonstrators attended the rally to show solidarity with Bahraini people and to condemn Saudi Arabia's involvement in the crackdown of protesters in Bahrain, a Press TV correspondent reported on Saturday.
"We are here to actually condemn the human rights violation [against] the Bahraini people. It is not a sectarian rally on any account, it is human rights rally," event organizer Wajih Rizvi said.
Rizvi added that the protest was planned to oppose the Saudi government's brutal attacks on armless and innocent Bahraini nationals.
The rally continued with a march to the White House where protesters discussed the US role in the violence carried out by the Al Khalifa monarchy against the Bahraini people.
"It's a shame to believe in democracy and see dictatorship, oppression and invasion happening in front of their (the so-called pioneers of democracy's) eyes and they are silent in Bahrain," said Hisham al-Hussainy from Karbala Islamic Center.
Scores of people have been killed and thousands of others injured since February 14, when the Bahrainis started a popular revolution against the royal family that has been ruling the island for more than 40 years.
Led by Saudi Arabia, Bahrain's Arab neighbors deployed their troops in the country in mid-March to reinforce the armed attacks against protesters. The reinforcements have reportedly contributed to an increase in the use of violence against demonstrators.
Last month, Saudi snipers were sighted gunning down a nurse as she was trying to reach hospital in the Bahraini capital of Manama.