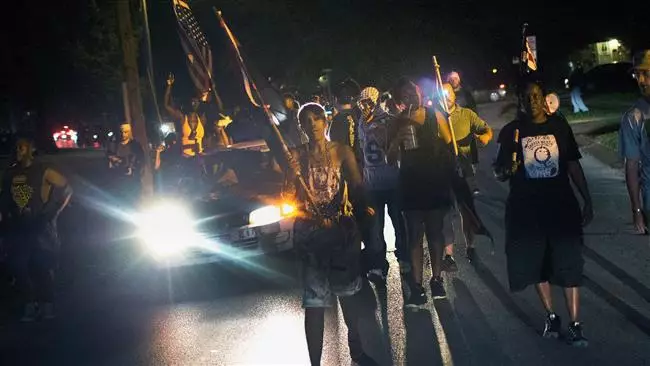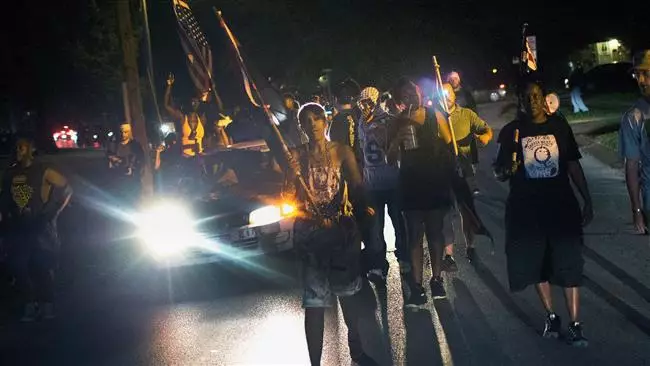 Americans have held a rally in the US city of Ferguson ahead of the first anniversary of the brutal killing of Michael Brown, an unarmed African American, by a white police officer.
Demonstrators marched in the streets of Ferguson and called for justice on Friday night before Sunday which marks the day former officer Darren Wilson shot and killed Brown last year.
Members of the National Association for the Advancement of Colored People have said they will show their support for a Justice March which will begin at Columbia's Progressive Missionary Baptist Church on Saturday morning.
Ratliff Mary, the president of the Missouri Chapter of NAACP, said the march across the Southern States to Washington, DC will have a more profound impact on the Americans' view of Brown's death.
Ratliff said, "We are marching for justice against police brutality.  We want the justice system fixed so that it is really a justice system for all."
"When we say the term, no justice no peace, that's what it has to be.  In Columbia, we will quit marching when we have justice.  We will quit holding rallies," he added.
Following Brown's death, a grand jury declined to indict Wilson in the shooting and investigators cleared him of any wrongdoing under federal law.
Brown's death and failure to indict Wilson sparked months of nationwide violent protests and a still-running national debate about race and police brutality.
According to Ratliff, social injustice is still rife in America and it has continued even after Brown's death.
A recent survey by the Associated Press showed that more than 3 out of 5 African-Americans said they or a family member have been treated unfairly by police officer since the death of Brown.