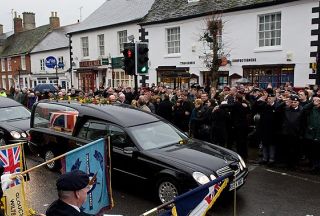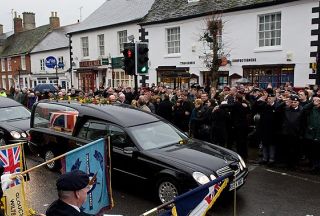 The bodies of seven British soldiers killed in Afghanistan last week have been flown back to the UK amid mounting public anger over the unsuccessful war.
Thousands of mourners filled the streets of the small English market town of Wootton Bassett, Wiltshire, to pay their final respects to those who had fallen in Afghanistan as they came through the Royal Air Force Base, RAF Lyneham.
Fallen soldiers from the wars in Iraq, Afghanistan and other places, having been repatriated to RAF Lyneham, the least congested air force base close to Oxford, usually pass through the town on their way to the John Radcliffe Hospital, Oxford, in readiness for the coroner.
This has led to people assembling along the route of the funeral cortège initially from the local area and occasionally some mourners with a connection to the dead. On 12 October 2008, a parade was organized by the armed services to thank the town for their support.
Four of the soldiers were killed when their vehicle overturned into a river in Helmand province. The other three were slain in separate attacks.
Britain has deployed almost ten thousand troops to Afghanistan, most of which are stationed in Helmand.
More than three hundred UK troops have been killed in the war-torn country since the US led invasion in 2001 which was meant to eradicate the extremism of the Taliban and destroy the safe haven for terrorists. Neither objective has been achieved.