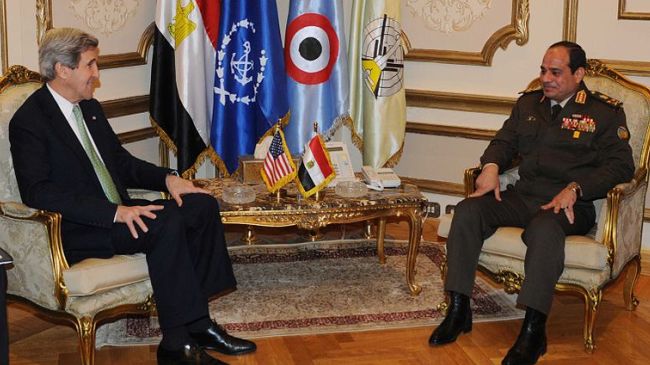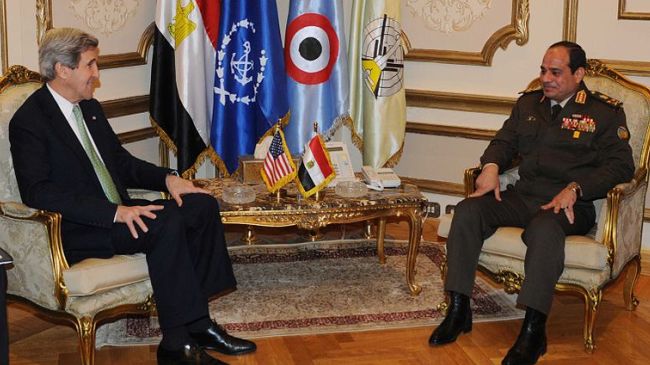 US Secretary of State John Kerry defends the Egyptian military for ousting the democratically-elected government of Mohamed Morsi.
"The military was asked to intervene by millions and millions of people, all of whom were afraid of a descendance into chaos, into violence," said Kerry in an interview with Pakistani private television channel Geo.
He added that the Egyptian military has not taken over the power and is "resorting to democracy" by giving the power to a civilian government.
He made the remarks as the US-funded military has so far killed over 300 Egyptians during a harsh security clampdown on mass protests against the June 30 military coup.
Human rights organizations have taken a swipe at the deteriorating human rights situation in Egypt. Amnesty International on Wednesday condemned the violence against demonstrators.
"The Egyptian government's decision to mandate security forces to end all pro-Morsi sit-ins in Greater Cairo, considering recent violence against protesters, is a recipe for further bloodshed," the group said.
The White House has declined to call the ousting of Morsi by the military as a coup.
Labeling Morsi's ouster a coup would require the administration of President Barack Obama to shelve its annual $1.5 billion military aid package for the country.
Egyptian protesters accuse the White House of putting its weight behind a coup which was meant to suppress country's Islamic groups.