Africa
Saudi Arabia
Amnesty reveals life-threatening conditions for Ethiopian migrants in Saudi detention centers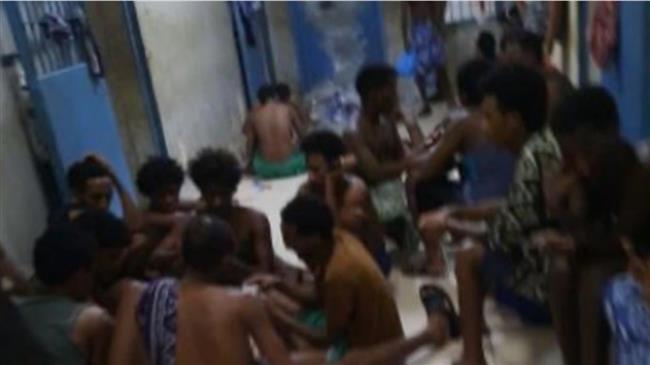 Amnesty International has warned against life-threatening conditions at Saudi Arabia's squalid detention centers, where thousands of Ethiopian migrants are languishing, stating that the African detainees are enduring "unimaginable cruelty" during the coronavirus pandemic and some of them have lost their lives.
The New York-based rights group, in a report published on Friday, stated that it had interviewed detainees who described a catalogue of cruelties at the hands of Saudi authorities, including being chained together in pairs, forced to use their cell floors as toilets, and confined 24 hours a day in unbearably crowded cells.
Amnesty International, based on consistent eyewitness testimonies, documented the deaths of three people – an Ethiopian man, a Yemeni man and a Somali man – at al-Dayer detention center in Saudi Arabia's southern Jizan province.
Other detainees reported at least four more deaths. Even though the organization could not independently corroborate the claims, the prevalence of disease and the lack of food, water and healthcare indicate the true number of deaths could be much higher.
Freweyni, 25, described the death of a 15-year-old boy at al-Dayer center.
"He was sleeping on the ground, covered with clothes. He was very weak. He urinated while sleeping. A boy was taking care of him. […] We shouted and the guards came in to take him….Four days later, I saw this boy lying on the ground outside. He was dead. I saw another body next to him," he said.
Two people told Amnesty International they had prevented cellmates from committing suicide in Jizan central prison as well as Jeddah detention center. They cited the uncertainty of the situation, heat and insufficient food as key factors in driving detainees to take their own lives.
Abeba, 24, described the acute mental distress of some of those she was detained with at al-Dayer.
"Some women speak to themselves, some don't dress up, some can't control [themselves] when they urinate," she said.
Amnesty noted that several women have given birth during their detention, and that they are returned to the same unsanitary conditions after a short stay at a medical facility.
Three women reported that two babies and three toddlers had died in al-Dayer, Jeddah and Mecca prisons.
"The children became sick in al-Dayer because we were sleeping in a dirty place, it was too hot and we didn't receive enough food. They had diarrhea and they were very thin. Children were taken to the hospital, where they died," Abeba told Amnesty International.
Two detainees reported that prison guards had administered electric shocks to them and other detainees as punishment after they complained about conditions.
"They used this electric device… It made a small hole on my clothes. I saw a man whose nose and mouth were bleeding after that. Since then, we don't complain anymore because we're afraid they'll do again the electric thing on our back." Solomon, 28, told Amnesty International.
Eight detainees said they had experienced and seen beatings by prison guards, and shootings during escape attempts.
One man said he had seen the body of a man who had been shot after trying to escape.
Amnesty called on Saudi Arabia to release the migrants and work with Ethiopian authorities to facilitate their repatriation.
"Thousands of Ethiopian migrants, who left their homes in search of a better life, have instead faced unimaginable cruelty at every turn," Amnesty researcher Marie Forestier said in a statement.
"We are urging the Saudi authorities to immediately release all arbitrarily detained migrants, and significantly improve detention conditions before more lives are lost," Forestier said.
Up to half a million Ethiopians were in Saudi Arabia when officials there launched a crackdown on illegal migrants in 2017, according to the UN's International Organization for Migration (IOM).