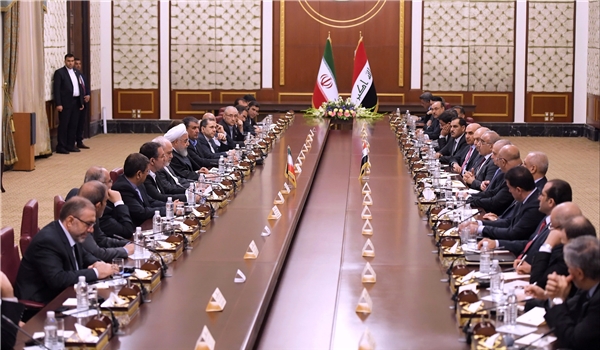 A prominent political analyst underlined the unchangeable nature of Iraq's principles of domestic and foreign policies, stressing that Baghdad would never victimize its interests for the US warmongering against the neighboring country of Iran.
Iraq always considers national interests and common interests of the regional powers as well as international peace and security in its internal and foreign policies, Adel al-Jabouri wrote in the Arabic-language Lebanon-based al-Ahed news website on Wednesday.
He added that the principles important to Iraq at the present juncture in the region include opposition to the US unilateral sanctions against Iran which it views as illegitimate, support for the Islamic Republic of Iran in case of any US war for Tehran's positive positions towards Baghdad in different sensitive conditions, specially in summer 2014 when the ISIL had occupied the Iraqi cities, efforts to rely on all peaceful instruments and ways to prevent any tension between Washington and Tehran, and the US return to the internationally-endorsed agreement between Tehran and the world powers.
Al-Jabouri said that Iraq is now in reconstruction era and does not want any new war in the region, adding that it has also counted on investment and economic relations with Iran, which requires regional security and stability.
Iranian Foreign Ministry Spokesman Seyed Abbas Mousavi said on Tuesday that the recent visit by Foreign Minister Mohammad Javad Zarif to Iraq demonstrated broad commonalities shared by Tehran and Baghdad, reassuring that no country is able to damage the close ties between the two countries.
Iran's foreign minister arrived in Baghdad Saturday and met with Iraqi president, prime minister and his counterpart as well as other high-ranking officials.
In a joint press conference with his Iraqi counterpart Mohammed al-Hakim in Baghdad on Sunday, Zarif underlined good talks with al-Hakim on regional issues, saying that Iran was willing to have balanced relations with all the Persian Gulf littoral states.
"Iran is ready to sign non-aggression pacts with the Persian Gulf Arab states," he said.
Before meeting al-Hakim, Zarif met with Iraqi President Barham Salih in Baghdad on Saturday.
During the meeting, Salih welcomed his Iranian counterpart's invitation to visit Tehran, emphasizing the need to further broaden bilateral relations.
The two high-ranking officials discussed regional developments and bilateral ties.
According to a statement by the Iraqi president's office, Salih and Zarif also underlined the necessity for preventing increased tensions in the region and importance of joint efforts to protect the region from the damages resulting from the US sanctions.
The statement also added that Salih stressed the importance of strengthening relations and cooperation with Iran.
During the meeting, Zarif submitted an invitation from President Hassan Rouhani to Salih which was welcomed by the Iraqi president.