Turkey
Anger boils as Erdgoan's aide kicks protester in Soma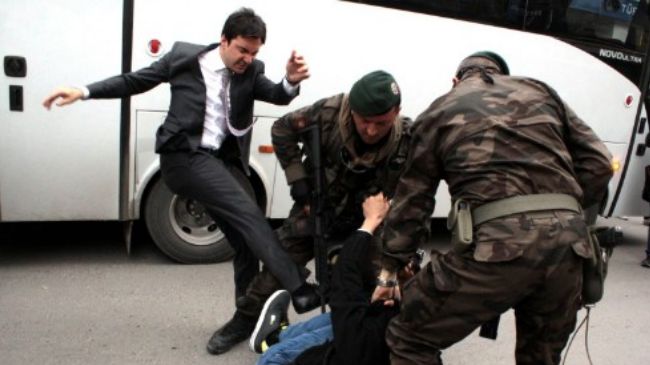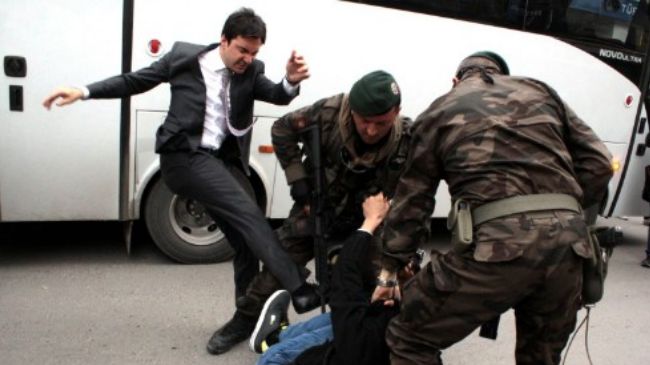 Outrage is growing in Turkey over a photo that shows an aide to the prime minister kicking a man protesting a deadly mine disaster in Soma.
The photo was taken during Prime Minister Recep Tayyip Erdogan's visit to the western city of Soma a day after the devastating disaster that took place on Tuesday.
The man, detained by police forces, can be seen lying on the ground as Erdogan's deputy chief of staff, Yusuf Yerkel, aims a kick at him.
The shocking image has outraged many across Turkey, prompting an outpouring of anger by activists on social media.
The premier's aide has issued a statement that expressed regret but also claimed that he was provoked.
"I am sad that I could not keep my calm in the face of all the provocation, insults, and attacks that I was subjected to that day," Yerkel said in a statement on Thursday.
Meanwhile, Turkish police have used tear gas and water cannon on angry demonstrators in several cities protesting the mine explosion that killed at least 283 workers.
A faulty electrical transformer is believed to have caused the explosion at the mine.
Ankara is accused of failing to implement proper safety measures. Turkish media say Ankara rejected calls to inspect mines in the Soma region, only weeks before the deadly coal-mine disaster.
Erdogan has promised to launch investigations into the cause of the incident. However, he has rejected claims of the government's culpability in the deadly disaster.