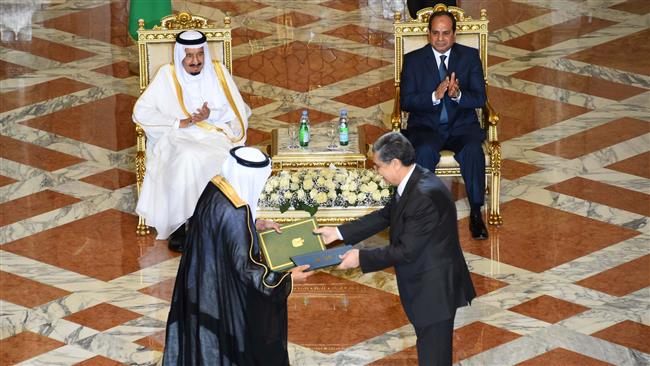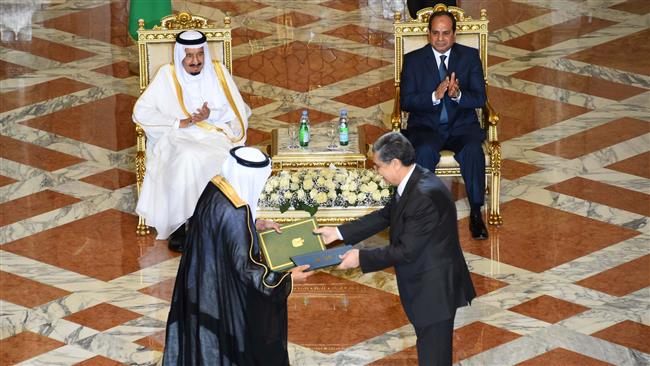 Egypt's Sisi under fire for giving away Red Sea islands
Egyptians from ordinary citizens and activists to former officials and politicians line up to vent their anger at President Abdel Fattah el-Sisi's decision to hand over two islands to Saudi Arabia.
Egypt's cabinet announced on Saturday that it was transferring sovereignty of strategic Tiran and Sanafir islands at the mouth of the Gulf of Aqaba to Saudi Arabia after King Salman arrived in Cairo for a five-day visit.
The surprise announcement generated angry protests from Egyptians who have considered the islands to be their land for decades.
Activists said Sisi is selling Egyptian territory with a humiliating concession to a wealthy ally.
"Roll up, roll up, the island is for a billion, the pyramid for two, and a couple of statues thrown in for free," well-known satirist Bassem Youssef wrote in a tweet as he mocked the concession.
Critics flooded social media with their biting posts, calling Sisi "Awaad," referring to a character in an old Egyptian song who had sold his land – a shameful act in the eyes of Egyptians.
Others said the agreement violates the Egyptian constitution, arguing that Sisi has lost legitimacy by ceding the islands.
Sisi came to power after ousting Egypt's first democratically-elected president, Mohamed Morsi, in 2013.
Former officials and politicians also condemned the decision.
Former head of Egypt's Military Operations Authority, Abdel Munem Said, said Tiran and Sanafir belong to Egypt. He urged the parliament, which must ratify the agreement, not to endorse it.
Morsi also criticized the move in an interview with Al-Jazeera, saying he "refuses to hand over even one grain of sand of Egypt's land."
A protest was held in the capital Cairo on Sunday against the decision. Security forces arrested five activists during the protest.
Lawyer Khalid Ali filed a lawsuit challenging the agreement, stressing that the islands are Egyptian.
Prominent Palestinian journalist Abdul Bari Atwan said in the Rai al-Youm newspaper that Saudi Arabia follows an expansionist policy and aims to capture territory in neighboring countries.
He attributed the agreement with Egypt to the country's military and economic weakness.
Egypt is giving the two islands away in exchange for a USD 20-billion aid from Saudi Arabia, he said.
The decision, he said, was prompted by Cairo facing a USD 43-billion budget deficit, a sharp increase in its foreign debts, a high unemployment rate, a decline in the exchange rate of the Egyptian pound, and a security crisis in Sinai Peninsula, among other things.
Atwan said he expected the parliament to ratify the deal as the majority of its members are Sisi supporters but the agreement may be annulled if it comes under immense pressure from the people.
Tiran Island is located in the entrance of the Straits of Tiran, which separates the Red Sea from the Gulf of Aqaba. Its strategic significance lies in the fact that it is an important sea passage to the major ports of Aqaba in Jordan.
Israel briefly took over the island during the Suez Crisis in late 1956, and once more between 1967 and 1982 following the Six Day War.
Sanafir Island is located to the east of Tiran Island, and measures 33 square kilometers (13 square miles) in area.
The ownership of the two islands was transferred to Egypt in 1982, when Tel Aviv and Cairo signed the so-called Camp David peace accords.
"Here you have Salman coming to Egypt, pledging billions of dollars in aid and investment, and in exchange these islands are handed over," Professor Samer Shehata said.
"It seems to many Egyptians that the president is selling land for Saudi riyals," said Shehata, an associate professor of Middle East studies at the University of Oklahoma.