Saudi Arabia
Angry Saudis Urge Trial for Culprits behind Killing of Peaceful Protestors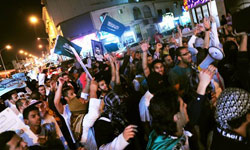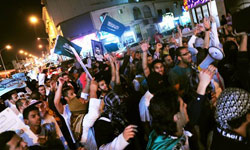 A large number of Saudi people staged a demonstration in Qatif, Eastern Saudi Arabia, to demand the trial of those behind the massacre of 15 peaceful protestors.
The protestors chanted slogans against the Saudi dynasty and also in support of the Bahraini people's uprising against the tyrannical rule of the al-Khalifa regime nurtured by the Saudi officials.
The Saudi protestors also called for the withdrawal of the Saudi forces from Bahrain who have been deployed in the tiny Persian Gulf country from March 13, 2011 and helped Manama crack down on peaceful protestors.
Since February 2011, Saudi protesters have held demonstrations on an almost regular basis in Eastern Provinces, mainly in the Qatif region and the town of Awamiyah, calling for the release of all political prisoners, freedom of expression and assembly, and an end to widespread discrimination.
However, the demonstrations have turned into protests against the Al Saud regime, especially since November 2011, when Saudi security forces killed five protesters and injured many others.
The Saudi interior ministry issued a statement on March 5, 2011, prohibiting "all forms of demonstrations, marches or protests, and calls for them".
The Saudi regime alleges that is has banned protests and demonstrations "because that contradicts the principles of the Islamic Sharia, the values and traditions of Saudi society, and results in disturbing public order and harming public and private interests".
In June, Saudi King Abdullah bin Abdulaziz Al Saud ordered the country's security forces to go on a state of high alert due to what he called a "turbulent situation" in the region.
According to Human Rights Watch, the Saudi regime "routinely represses expression critical of the government".