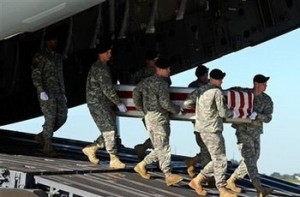 Another US-led soldier in Afghanistan has been killed in south of the country while taking part in the offensive against the Taliban.
According to a Tuesday statement released by NATO's International Security Assistance Force (ISAF) on, the soldier was killed Tuesday by an Improvised Explosive Device (IED) in Afghanistan's troubled southern region.
"An ISAF service member was killed in an IED strike in southern Afghanistan today," a brief statement said. "This is an Operation Mushtarak-related casualty."
The statement did not disclose the nationality of the trooper but most of the soldiers participating in the offensive are US troops.
The casualties of the foreign forces in Afghanistan are on the rise as the US-led military operations launched against a Taliban bastion in the Marjah district of southern Helmand province continue.
Earlier on Tuesday, an ISAF press release said that two US-led forces had died on Monday, following IED strikes in southern Afghanistan.
It was the tenth death announced by the coalition forces since the operation Mushtarak started.
The latest death brings to 77 the number of foreign troops killed in Afghanistan so far, this year.