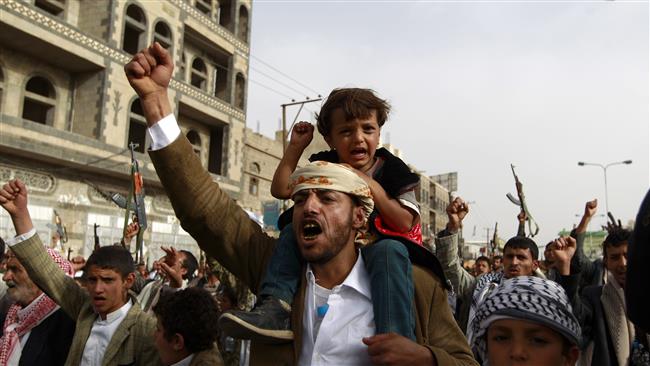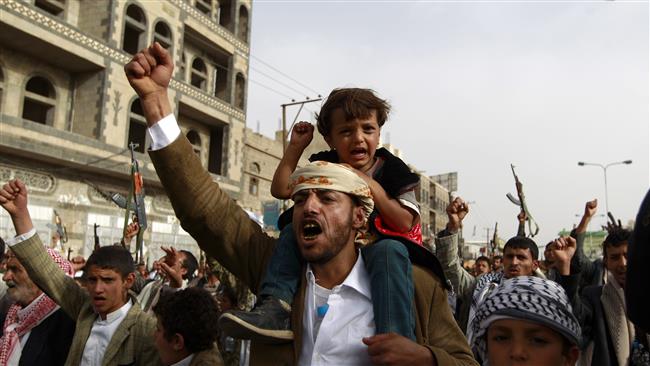 Yemen's Houthi Ansarullah fighters and allied forces have flushed out al-Qaeda terrorists from some strategic regions north of the country and close to the Saudi border.
According to al-Masirah TV, Yemen's Popular Committees on Wednesday seized control of the al-Khanjar barracks in Yemen's Jawf Province after engaging in fierce clashes with al-Qaeda militants.
The military camp was a major stronghold of militants in north Yemen. Forces loyal to Yemen's fugitive former president, Abd Rabbuh Mansur Hadi, also used the facility for launching attacks on Ansarullah and their followers in neighboring provinces.
Earlier in the day, Ansarullah fighters and their allied military units took control of the Aqabah region in the same province.
The area was used as a major supply line for al-Qaeda militants, facilitating their movement between Yemen and Saudi Arabia.
Retaking the region gives the allied forces better access to Saudi territory, should they want to launch retaliatory attacks on targets there.
Houthis have stepped up their fight against al-Qaeda in recent months, securing large areas from the terrorists across the country. Since they took control of the capital Sana'a last September, the Ansarullah revolutionaries declared the fight against extremism and terrorism as one of their major objectives.
Saudi aggression continues
The new gains against militants came despite Saudi Arabia's ongoing air campaign against Yemen. Saudi warplanes continued pounding areas across the impoverished country on Wednesday, targeting areas north of the country, most notably hitting the Aqabah area. The attack was meant to drive out members of Ansarullah from the region which had been liberated earlier in the day.
Saudi bombers also targeted the al-Sha'f region in Yemen's northern Sa'ada Province, pounding the residential buildings and installations there four times in a row. Two nearby towns, namely Haydan and Saqyan, were also targeted by Saudi warplanes.
Yemenis retaliate
The attacks came as Yemeni allied forces launched another round of retaliatory attacks inside the Saudi territory with reports saying that army units and Ansarullah fighters managed to enter the al-Saharafah military region in Saudi Arabia's Jizan Province, killing a number of Saudis and destroying at least four military vehicles.
Footage aired by al-Alam purportedly showed the explosion of one of the Saudi armored vehicles, leaving some people dead and injured. The Arabic-language TV channel also said that Yemen's army units managed to down a Saudi bomber in the northern Sa'ada Province, without elaborating on further details.
Saudi Arabia started its military aggression against Yemen on March 26 – without a UN mandate – in a bid to undermine the Houthi revolutionaries and bring Riyadh's staunch ally, Hadi, back to power.
Nearly 2,000 people have been killed and 7,330 injured due to the conflict in Yemen since March 19, according to the United Nation.