North America
Anti-Islam movie directed, produced by Israeli-American: US media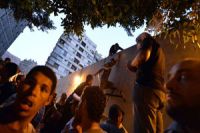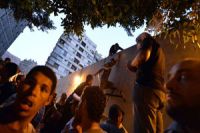 According to US media, the controversial movie that has sparked outrage in the Muslim world has been produced by an anti-Islam Israeli-American.
The Wall Street Journal reported on Tuesday that Israeli-American Sam Bacile has directed and produced the blasphemous movie. Bacile, 52, is a real-estate developer living in southern California and a sworn enemy of Islam.
He has assumed responsibility for the film, which he said was made thanks to Jewish donations totaling $5 million.
Earlier, a staff member of the US consulate in the eastern Libyan city of Benghazi was killed and one security guard injured during clashes, triggered over the anti-Islam film, at the consulate building.
The incident occurred following a massive demonstration held earlier in the day in neighboring Egypt to condemn a movie that insults Prophet Muhammad (PBUH).
Thousands of Egyptians gathered in front of the US Embassy in Cairo to express their anger over the movie.
The protesters scaled the walls of the embassy, pulled down the US flag, and called for the expulsion of the US ambassador to Cairo.
They also asked the US government to apologize to the Muslim world over the release of the movie.