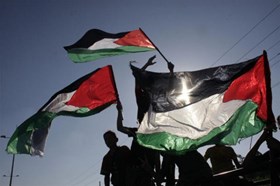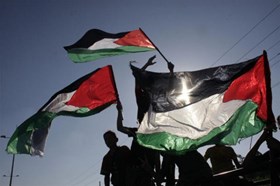 A pro-Palestine demo was staged Saturday by the Austria-based Coordination Committee to Support Palestine in front of Vienna's Opera House.
The demo marks the UN's International Day of Solidarity with the Palestinian People. It was joined by a consortium of anti-Israeli institutions and committees.
Protesters lifted banners reading "Freedom to Palestine" and urging the Israeli occupation to lift the siege imposed on the Gaza Strip.
The demonstrators further called for immediately opening the Rafah crossing, Gaza's sole passageway, and toning down the "noose" tightened around Gazans' necks.
A selection of live-snapshots and video sequences, projecting the pains and wounds wrought on the Palestinian people by Israel's blockade policy, were screened during the rally.
Activist Ghassan Obeid, director of the Middle East department at the international Friends of Humanity organization based in Vienna, reiterated Europe's Muslim and Arab communities' firm rejection of Israel's terrorism against the Palestinian people in Gaza and Occupied Jerusalem.
He called on the international community to assume their responsibilities vis-à-vis Gazans and Islamic holy places in the occupied Palestinian territories.