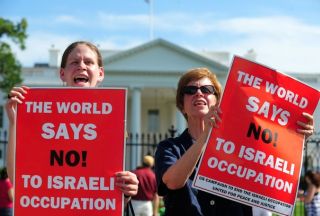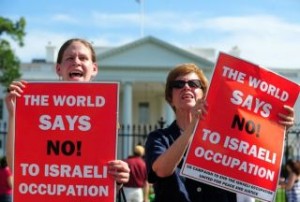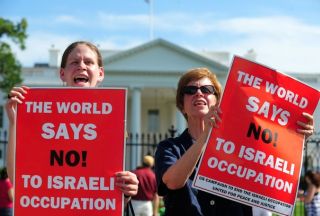 Hundreds of demonstrators have gathered in the streets of Washington and New York to protest Israel's deadly attack on a Gaza-bound humanitarian flotilla.
In Washington on Monday, protesters who had at first crowded near the Israeli Embassy drew together in front of the White House to express their outrage at the US government's relentless support of Tel Aviv.
Amid shouts of "No more nickels, no more dimes, no more funding Israel's crimes," the demonstrators called for an end to the years-long Israeli blockade of the Gaza Strip.
They also urged President Barack Obama's administration to expel the Israeli ambassador to Washington.
Anti-Israeli demonstrations were also held in New York on Monday afternoon, where hundreds of demonstrators gathered outside the Israeli consulate. Demonstrators waved Palestinian flags, chanting "End the siege in Gaza now" and "Stop Israeli piracy!"
Dozens of traditionally dressed orthodox Jews were among the demonstrators carrying signs reading "Judaism condemns Zionist atrocities in Gaza."
Tel Aviv is facing a growing wave of international criticism and condemnation over its early Monday raid on the six-ship Gaza Freedom Flotilla, that left at least 20 peace activists dead and about 50 others injured.
The Obama administration has so far only expressed "regret" at the loss of life aboard the Freedom Flotilla, stopping short of condemning the assault. The convoy, which was intercepted in international waters in the Mediterranean Sea, was carrying humanitarian assistance to Gaza.
Protest organizers have planned an even larger White House demonstration for Tuesday near noon.