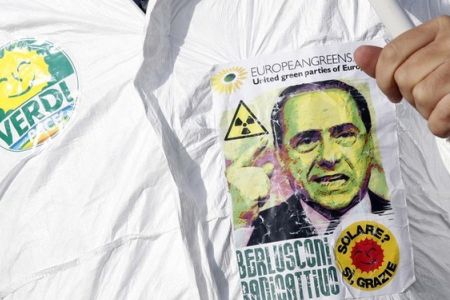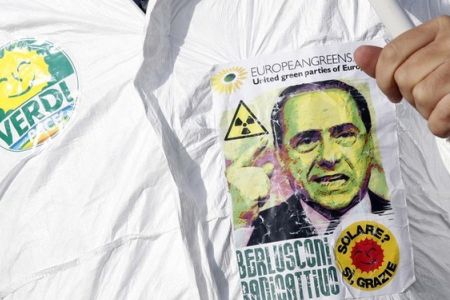 Italians have staged a protest against the use of nuclear energy in their country in the wake of Japan's Fukushima nuclear disaster.
A prominent Italian opposition party, Italy of Values, organized a rally in Navona Square in the capital Rome on Saturday to convince Italians that the use of nuclear energy would endanger public health, a Press TV correspondent reported.
In Italy, fear has spread among citizens and many are afraid of a similar scenario happening in their own country.
An opinion poll showed 68.4 percent of Italians are against the building of a new nuclear power plant in Italy and only 20.3 percent are in favor, the report added.
The 27 countries in the European Union derived 31 percent of their electricity needs and 14.6 percent of their primary energy consumption from nuclear power in 2010. In the past eight years, there has been a considerable momentum on the continent to boost that capacity.
Countries that had halted the construction of new reactors, including Germany and Sweden, or others which have effectively abandoned nuclear power altogether, including Italy and Poland, had been considering reversing their moratoriums, phase-outs and outright bans.
Technological improvements in the design of reactors and a geopolitical impetus to wrestle the continent from the grip of Russian energy exports following a number of Russian natural gas cutoffs, have encouraged EU members to reconsider their nuclear freezes.
Explosions and risk of partial core meltdown at nuclear reactors in Japan have reopened Italy's public debate on nuclear energy, which the ruling center-right government is planning to re-launch.
The Italian Senate, the upper house of the Italian parliament, is scheduled to solidify on Tuesday March 19 a legislative decree that would establish the location and type of new nuclear reactors to be built in the country.
If approved, the plan would mark the extension of operations of some of the country's nuclear plants. Italy has been the only nation in the Group of Eight that has phased out production of atomic energy since a 1987 referendum, held after the Chernobyl nuclear disaster in Ukraine.
Next June 12th, Italians will once again have the opportunity to vote against or in favor of a new phase of nuclear technology developments on their territory, 20 years after it came to a halt.
The Fukushima plant in Japan was damaged by Friday's 9-magnitude earthquake, and due to a radiation leak, radioactivity at the facility is reportedly 20 times higher than normal levels at the present.