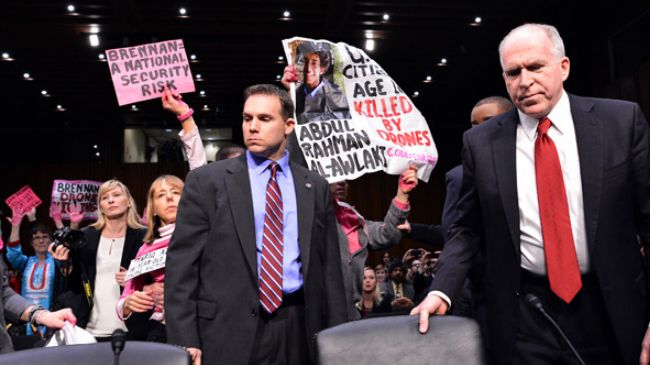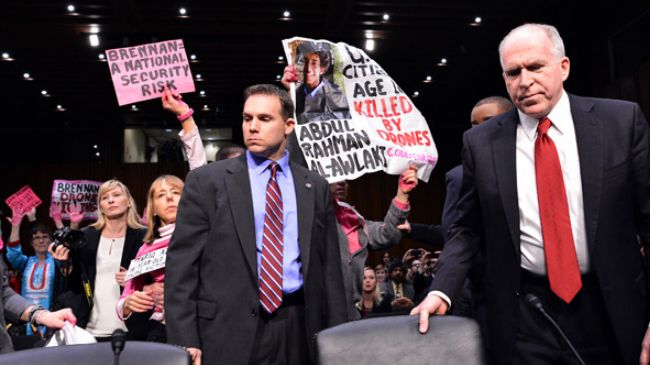 Protesters opposed to US assassination drone attacks have interrupted a US Senate hearing on the nomination for John Brennan, President Barack Obama's choice to be the next director of the CIA.
Sen. Dianne Feinstein (D-California), the chairperson of the Senate Intelligence Committee, ordered the proceedings be halted temporarily on Thursday after protesters repeatedly prevented Brennan from speaking.
"We've done this five times now, and five times is enough," Feinstein said, telling security officers to clear the room and prevent the re-entry of protesters, especially those from Code Pink, a women-initiated group for peace and social justice working to end US funded wars and occupations around the world.
Protesters shouted slogans against US drone attacks and accused Brennan of involvement in policies which result in deaths of children.
"Are your children more important than the children of Pakistan?" one protester shouted at Senator Feinstein.
"This is a war criminal. He should not be confirmed," said another.
Some protesters also waved signs reading "Brennan = Drone Killings" and accused Brennan of war crimes. Brennan is the top White House adviser on the so-called war on terror. He is known as the architect of Washington's drone operations.
Brennan defended the legality of the attacks, saying they protect American lives and prevent potential terror attacks.
On Tuesday, White House Press Secretary Jay Carney defended the administration's use of assassination drones to kill people, even US citizens, inside the United States, saying such targeted assassinations are "legal, ethical and wise."
"Sometimes we use remotely piloted aircraft to conduct targeted strikes against specific al-Qaeda terrorists in order to prevent attacks on the United States and to save American lives," Carney said.
"We conduct those strikes because they are necessary to mitigate ongoing actual threats, to stop plots, to prevent future attacks and, again, save American lives. These strikes are legal, they are ethical, and they are wise," he added.
A recently-leaked Justice Department memo offered justification for an increase in the number of drone strikes, including those aimed at US citizens, under the Obama administration in recent years.
"Targeting a member of an enemy force who poses an imminent threat of violent attack to the United States is not unlawful. It is a lawful act of self-defense," reads the undated memo, titled Lawfulness of a Lethal Operation Directed Against a US Citizen who is a Senior Operational Leader of al-Qaeda or an Associated Force.
"The condition that an operational leader present an 'imminent' threat of violent attack against the United States does not require the United States to have clear evidence that a specific attack on US persons and interests will take place in the immediate future," the document read.
The memo has come under fire by the American Civil Liberties Union, among other groups, for using executive authority to justify the killing of US citizens without a due process of the law.
Washington uses assassination drones in several countries, claiming that they target "terrorists." According to witnesses, however, the attacks have mostly led to massive civilian casualties.