World News
APEC leaders fail to reach consensus at end of summit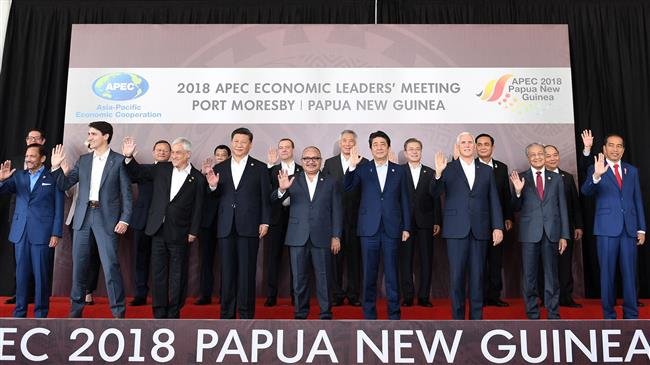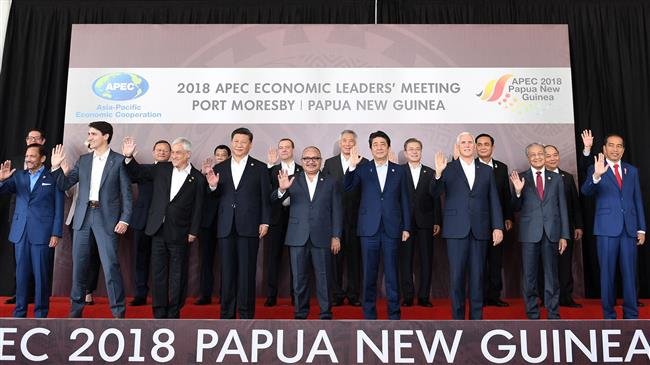 Leaders of countries forming the Asia Pacific Economic Cooperation (APEC) have for the first time in the body's history failed to issue a formal declaration at the end of their annual summit, a Chinese official says.
Zhang Xiaolong, a spokesman for the Chinese Foreign Ministry, said on Sunday that the leaders, attending a meeting of the APEC in Papua New Guinea (PNG), had failed to bridge divisions and to issue the traditional communiqué at the end of the regional forum.
"The leaders agreed that instead of a traditional leaders' declaration, they would leave it to the hands of PNG as the chair to issue a chair statement on behalf of all the members," Zhang said.
PNG Foreign Minister Rimbink Pato said in an interview with Reuters that "conflicting visions" for the region had made it difficult to draft the summit communiqué.
Canadian Prime Minister Justin Trudeau also admitted there had been "different visions on particular elements with regard to trade that prevented full consensus on a communiqué document."
The annual gathering of 21 APEC leaders was overshadowed by a war of words between Chinese President Xi Jinping and US Vice President Mike Pence.
The United States and its allies launched a coordinated response to China's Belt and Road Initiative, with Pence accusing Beijing of seducing smaller countries with the massive infrastructure program and offering them money for construction and development projects.
Pence labeled the money as "opaque" loans that came with strings attached and built up "staggering debt," mocking the initiative as a "constricting belt" and a "one-way road."
Pence urged the developing nations instead to stick with the United States, claiming that Washington would not drown its partners in a "sea of debt," or "coerce, corrupt or compromise their independence."
The US vice president also touched on the US-China trade dispute, saying that Washington would not change course on tariffs until Beijing "changes its ways."
Xi, for his part, insisted that the program was not a "trap" and there was no "hidden agenda."
The Chinese president also lashed out at the "America First" attitude adopted by the US administration, saying the policy was a "short-sighted approach" that was "doomed to failure."
In reaction to Pence's remarks, China's Foreign Ministry also said on Sunday that no developing country would fall into a debt trap simply because of its cooperation with Beijing.
Critics have voiced concern about the growing US intervention in the region, amid fears that a trade war initiated by America against China could cripple the Pacific Rim economy.
The US and China have imposed tit-for-tat tariffs on hundreds of billions of dollars of each other's goods over the past few months.
Washington has imposed tariffs on 250 billion dollars' worth of Chinese goods and China has responded with retaliatory duties on 110 billion dollars in US goods.
US demands from China include sweeping changes in bilateral trade, technology transfer, and industrial subsidy policies.
Beijing insists that Washington must pursue the mutual interests of the US and China in trade talks between them.
Trade talks between the two countries in September concluded without reaching a breakthrough.