Turkey
Middle East
Syria
Arab parliamentary union censures water supply cut by Turkish forces to Syria's Hasakah
The Arab Inter-Parliamentary Union (AIPU) has denounced in the strongest terms Turkish forces for depriving more than one million people in Syria's Hasakah of drinking water by cutting off supplies to the local population.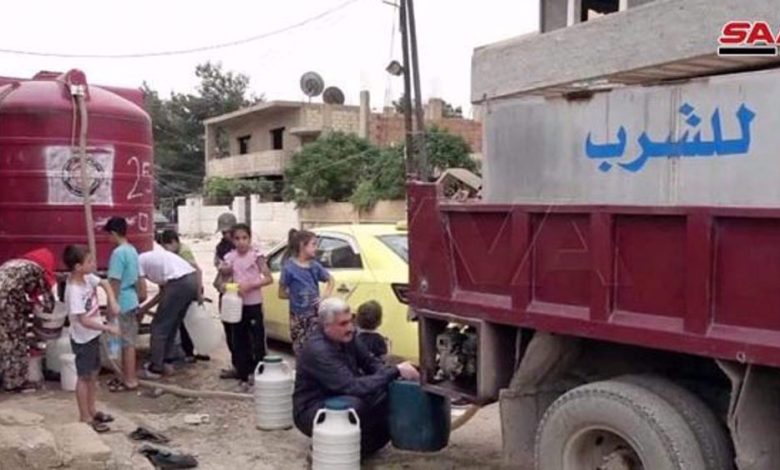 In a statement on Thursday, the AIPU appealed to UN Secretary General Antonio Guterres and international community "to intervene immediately in order to stop Turkish military forces and allied militants from cutting off water supply in Hasakah."
Turkish forces and their mercenaries have "deliberately and repeatedly" cut off drinking water to Hasakah and its vicinity in recent months, the statement said.
The union expressed serious concerns over the situation amid scorching weather conditions and the coronavirus pandemic, hoping that the world body would use all means to halt the ongoing tragedy in Hasakah.
The AIPU called for all forms of pressure to be exerted on the Turkish forces to immediately allow the flow of drinking water to the area.
Elsewhere in the statement, the union underscored its complete support for Syria in defending its "sovereignty and nation".
The AIPU is an organization composed of parliamentary groups representing Arab parliaments. It was established in the wake of the 1973 Arab–Israeli War to encourage Arab cooperation through political, professional and other institutions. The union is based in the Jordanian capital city of Amman.
Last August, Syria's permanent representative to the UN Bashar al-Jaafari warned that Turkish forces were using water as a weapon against local residents, saying that the troops in control of Allouk water station had cut off water supply to Hasakah and its countryside more than 15 times over the past few days.
On October 9, 2019, Turkish forces and Ankara-backed militants launched a cross-border invasion of northeastern Syria in a declared attempt to push Kurdish militants affiliated with the so-called People's Protection Units (YPG) away from border areas.
Ankara views the YPG, which is supported by the White House, as a terrorist organization tied to the homegrown Kurdistan Workers' Party (PKK), which has been seeking an autonomous Kurdish region in Turkey since 1984.
Last September, the United Nations urged Turkey to launch an immediate and independent investigation into war crimes and other violations of international law committed in the northern part of Syria, which is under the control of Turkish forces.
Hundreds of people across Hasakah have staged repeated demonstrations in recent months to denounce the Turkish military deployment to their area.
The Turkish military presence is regarded in Syria as an attack against the war-torn country's sovereignty.
Turkey has been involved militarily in the Syrian conflict since early 2011. It has provided the so-called Free Syrian Army (FSA) with military assistance throughout the conflict.