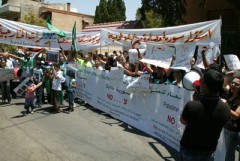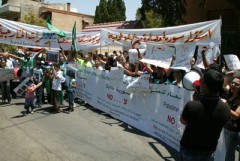 Scores of Arab General Union's students on Wednesday gathered in front of the UN Commission's HQ in Damascus to condemn the US-Western flagrant interference in Syria's internal affairs.
The Union's Secretary General Nidal Ammar handed a message to the Resident Representative of the UN Development Program in Syria Ismael Ould al-Sheikh Ahmad. The message underlines that the latest events in Syria are dangerous external conspiracies that seek to harm its national unity and destabilize its security.
"The sanctions imposed on Syria by the US Administration and the EU are illegitimate, illegal…. Foreign interventions in Syria's affairs should immediately stop," the massage said.
Other messages handed over to the UNDP Representative appreciated stances of Russia, China, Brazil, India, South Africa and Lebanon at the UN Security Council and other stances of some Arab countries which support the reform process being carried out in Syria.