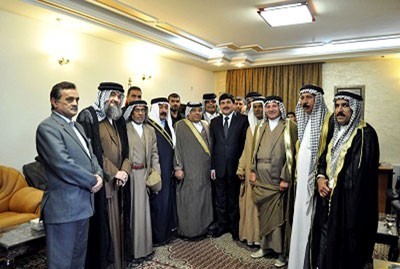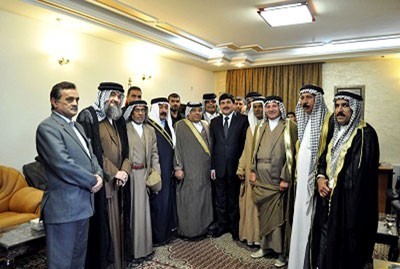 The Arab clans and tribes in Iraq reiterated full support to Syria in defense of the sublime Arab values that Syria advocates.
During a visit to the Syrian embassy in Baghdad on Wednesday, leaders of the tribes denounced the Turkish, Qatari, Saudi, US and western interference in the Syrian domestic affairs and the endeavors to stir up sedition in Syria.
The tribes' leaders underlined Syria's important role in confronting the Zionist entity and the US-Western schemes, urging the AL to revise its conspiratorial stance on Syria.
They also called on the Turkish Prime Minister, Recep Tayyip Erdogan to backtrack on his anti-Arab stances as they are a "rough ride" that the Turkish people will oppose.
They also expressed trust that Syria's victory is close at hand, urging the Syria people to unify their ranks in the face of the global conspiracy targeting it.
The leaders hailed the support of the Syrian leadership and people for the Iraqi people during the recurrent ordeals that hit Iraq and their embracing millions of Iraqis and ensuring decent life conditions for them.
Syria's Ambassador in Baghdad, Sattam Jadaan al-Dandah expressed in a press conference following the meeting his appreciation for the Arab tribes in Iraq, stressing that the Syrian-Iraqi relations are unbreakable.