World News
Argentines march against IMF ahead of Buenos Aires G20 summit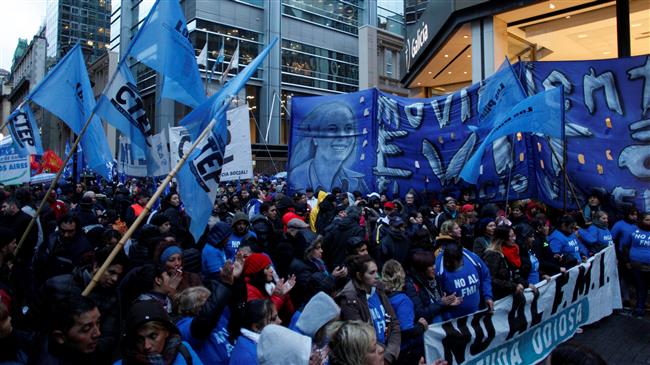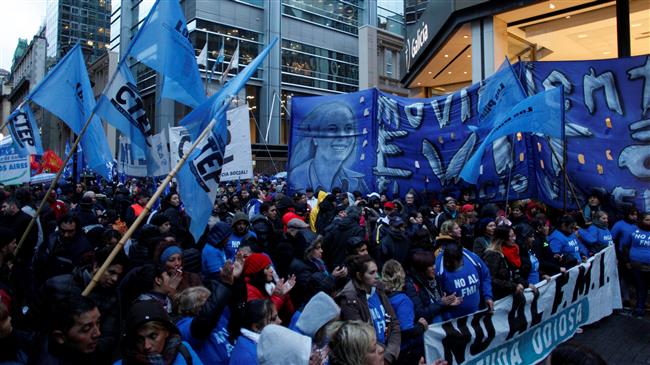 Thousands of people have rallied in the Argentinean capital Buenos Aires to protest against a visit by head of the International Monetary Fund (IMF) Christine Lagarde.
Protesters marched on the streets to the Argentine Ministry of Social Development to deliver a symbolic letter of protest to Lagarde, who arrived in the capital Friday prior to a meeting of G20 finance ministers this weekend.
Shouting anti-IMF slogans and walking behind a banner that read "Against Hunger and Adjustment," the demonstrators blasted a deal signed between the US-based organization and Argentina back in May, which secured a $50 billion credit line to the financially-troubled South American country.
The government said the loan sought to provide a "safety net" and would avoid the frequent crises that had thrown the Argentinean economy into disarray in the past.
The deal faced backlash by many who viewed the IMF-imposed austerity measures as responsible for the country's financial downfall in 2001 and 2002.
"These disastrous neoliberal policies implemented by International Monetary Fund in 90's led us to misery, hunger, and the despair of our people," said General Secretary of Workers' Union Walter Correa addressing the protesters.
On Friday, Lagarde met with Argentinean President Mauricio Macri and the country's Central Bank head Luis Caputo, among other officials, in Buenos Aires, where they reportedly discussed economic reforms in the Latin American country.
Turning to the IMF is a politically risky move for business friendly Macri who was elected in late 2015 after 12 years of leftist government.