General
Arizona shooting accident sparks fresh controversy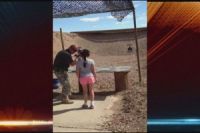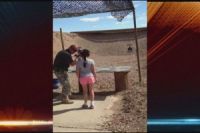 The accidental shooting death of a gun instructor in the US state of Arizona by a nine-year-old girl firing a fully automatic weapon has sparked fresh controversy over gun laws and gun-related deaths throughout country.
According to the reports, the death of the firearms instructor has sparked a powerful debate in the US over minors possessing firearms and displayed a tragic side of gun tourism, which has become a hot industry in the US.
Charles Vacca, 39, was standing next to the girl on Monday when a Uzi-type weapon recoiled in the girl's hands, causing her to inadvertently shoot him in the head, police said.
The little girl's parents were using cell phones to film the tutorial when the tragedy struck. Prosecutors say they will not file charges in the case. The identities of the girl and her family have not been released.
Many people initially expressed sympathy for the girl. However, viewers quickly criticized her parents' lapse of judgment, wondering why they would allow their child to operate an automatic weapon.
Jace Zack, chief deputy for the Mohave County Attorney's Office in the northwestern corner of Arizona, said the instructor was probably the most criminally negligent person involved in the accident for having allowed the child to hold the gun without enough training.
"We have better safety standards for who gets to ride a roller coaster at an amusement park," said Gerry Hills, founder of Arizonans for Gun Safety, a group seeking to reduce gun violence. Referring to the girl's parents, Hills said: "I just don't see any reason in the world why you would allow a 9-year-old to put her hands on an Uzi."
The deadly shooting incident is only one of the many which occur in the US. But the accident has raised questions about whether children that young should be handling such powerful weapons.
Every year, thousands of Americans lose their lives to gun violence in the country.
According to one study, over 12,000 gun deaths were reported by the US media between December 14, 2012, when the Sandy Hook massacre left 20 first-grade school children and six adults dead, and December 31, 2013.