Syria
Armed Groups Launch Attack on Nubbol and Zahraa Cities in Aleppo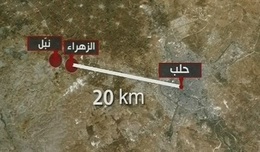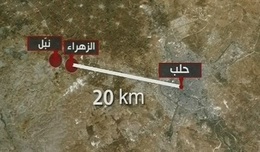 Armed terrorist groups launched a violent attack on the cities of Nubbol and Zahraa, 20 kilometers north of the city of Aleppo, using rocket launchers and mortars, which affected civilians from both cities, Al-Manar Website correspondent in Aleppo reported.
Other groups have also tried to launch a land offensive on the Nubbol city from the northern side and the clashes between the People's Committees defending the besieged cities and armed groups lasted till the moment.
The committees have succeeded to foil the militants' attack on the cities and information have talked about dozens of militants killed.
About 60 thousand people live in the cities of Nubbol and Zahraa. Since a year, the armed terrorist groups besieged them by blocking supply routes, preventing the entry and exit of residents, depriving them of all the causes of the life from water, electricity, medicines and foodstuffs. Since then, the cities are in a difficult humanitarian situation where they receive supply only by helicopters.