Europe
Armenia's Minister of Economy Submits Resignation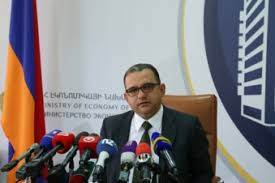 Armenian Minister of Economy Tigran Khachatryan submitted his resignation, the minister's spokeswoman said.
The minister, who assumed office in June 2018, submitted his resignation on Monday, Sputnik reported.
Khachatryan has become the sixth minister to resign over the recent Nagorno-Karabakh issue.
Last week, Vagharshak Harutiunyan, a key adviser to Prime Minister Nikol Pashinyan, replaced David Tonoyan as the country's defence minister after the latter tendered his resignation.
On November 10, Russia's President Vladimir Putin, Azerbaijan's President Ilham Aliyev, and Armenia's Prime Minister Nikol Pashinyan signed a joint statement on the complete cessation of hostilities in Nagorno-Karabakh.
According to the statement, Armenia and Azerbaijan would halt at their occupied positions, then a number of areas would come under Baku's control, and the sides would exchange prisoners. Russian peacekeepers have been deployed along the contact line and the Lachin corridor connecting Karabakh with Armenia.
The agreement sparked mass opposition rallies in Armenia's capital Yerevan, with protesters demanding Prime Minister Pashinyan's resignation.